The future according to General Motors, Hyundai, Jaguar Land Rover, Kia and Nissan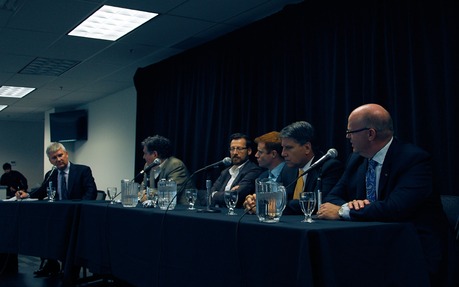 David Paterson, GM Canada Vice President of Corporate and Environmental Affairs. Wolfgang Hoffmann, President of Jaguar Land Rover Canada. François Lefèvre, Manager, Executive Planning & Chief Marketing Manager – LEAF at Nissan Canada. Don Romano, President and CEO, Hyundai Auto Canada Corp. And Ted Lancaster, Vice President and COO, Kia Canada. Assembled before the members of the Automobile Journalists Association of Canada, they discussed many topics regarding the present and the future of the automotive industry.
Electrification
The first topic concerned electric vehicles. On the optimists' side, we have Chevrolet, Jaguar and Nissan, who are investing heavily in this technology. The upcoming Chevrolet Bolt EV is just an example.
On the other hand, Hyundai Canada is a little more sceptical about EVs. Company president Don Romano doesn't believe in the electric vehicle, at least in the short term. "Batteries are not there yet. If we want to go from Toronto to Montreal, we have to stop on the way to recharge. In the meantime, there is hydrogen fuel cell technology… in five minutes we can fill up our vehicle, which will allow us to drive more than 500 km."
Will the hydrogen-powered vehicle for the masses, whose energy consumption could be the subject of a debate, see the light of day? Until a veritable infrastructure of hydrogen refuelling stations can be established, EV battery packs could end up storing nearly 800 km of range. However, this is purely the opinion of your humble servant.
However, at Kia, Ted Lancaster recognized that it's especially a question of charging infrastructure. By 2020, the brand hopes to improve the global consumption of its products by 25%. Speaking of Quebec's newly adopted, zero-emission law, he's waiting to get more information before speculating, as the new bill didn't yet specify all the details.
Mr. GM, David Paterson, reminded the journalists in attendance that it's the consumer that ultimately chooses. That's who they have to convince. A law that forces the electrification of vehicles might be not in the best interest of the buying public.
In the end, the manufacturers' representatives established the consensus that demand will determine what the future will look like, not the governments and their laws. Sound options must be offered to the consumer. In addition, the government should not simply hand out rebates to consumers, but must also put an infrastructure in place, whether it's electric or hydrogen.
Connectivity
There's a strong demand for more technology in cars, but also for increased safety. What's the right balance between these two aspects?
Kia is looking at autonomous vehicles and the liability surrounding them. If a Kia causes an accident, whose responsibility is it between the driver, the vehicle and the company? That's an important question to answer in the next few years, according to Mr. Lancaster. For now, Kia seeks to make roads safer. A system must also be set up to respect the privacy of drivers, so automakers won't be able to track their clients' behaviour behind the wheel.
At Hyundai, Don Romano doesn't believe we'll see autonomous cars on our roads for at least the next five years. They will arrive at some point, but in an evolutionary process as the technologies gradually appear. Hyundai is also working on increasing connectivity between its vehicles and servers in order to make Hyundai vehicles smarter, thus being able to warn their drivers of imminent danger.
Nissan has more ambitious plans; within the next few years, they'll be introducing a semi-autonomous—if not fully autonomous—vehicle. The company is also seeking to develop safer cars.
Jaguar is wondering why it is so important to have autonomous vehicles in the near future. After all, this type of technology isn't essential. According to the British brand, it's simply a marketing tool that some companies use to sell more cars. Mr. Hoffmann would like to see someone behind the wheel of their car drive through the Alps while reading a book… But in the end, the person at the helm of the vehicle would be the only one responsible. He thinks we should always remain in control of our cars and trucks, and that Canada should do a better job of educating the population, reminding them that passing should be performed in the left lane of a highway. All this is spoken with a dash of humour, which barely hides the fact that Jaguar Land Rover is trailing other manufacturers in regards to autonomous vehicles.
As for Chevrolet, the company currently has 30 autonomous vehicles on U.S. roads, which are testing various technologies. Mr. Paterson believes that automakers must concentrate on a multitude of safety technologies. There are 35,000 deaths every year in North America caused by human error, and we must reduce that number down to 0. In five years, he thinks we'll look at cars that are more than 10 years old and consider them unsafe.
Car sharing
What's the future for personal transportation?
GM believes that in urban areas, people will get access to vehicles with their smartphone, like a service and not through ownership. That's why GM created a company called Maven, which is working on various ways to promote car sharing. For example, a condominium building that would include a subscription service in its condo fees, allowing residents to borrow GM vehicles as needed. It would no longer be necessary to actually own a car.
At Jaguar Land Rover, a luxury brand, we have to admit that their customers likely have very little desire to share their sports cars with total strangers. However, Mr. Hoffmann does consider this type of technology important in congested cities, where parking spots are difficult to find. As a matter of fact, he believes Uber is pushing for autonomous vehicles to solve the shortage of available drivers. He thinks some people will always seek driving pleasure as well as the desire to hit the road at any given time, without having to wait until a vehicle is available.
As for Nissan, the company is working on several global projects on platforms similar to Uber's, but not necessarily in Canada. However, Mr. Lefèvre acknowledges the need for this type of technology.
Hyundai's Mr. Romano isn't very optimistic about this trend. He thinks that as they grow older, the younger crowd that uses Uber's service will end up feeling the need to have their own vehicle. A little like at Jaguar, people will prefer being able to go where they want, when they want, and owning a vehicle will continue to be part of people's desires. On the other hand, he also admits that in the context of heavily congested cities, there is a need for this type of service.
At Kia, they state that the average life expectancy in Canada is 77 years of age, which is more or less exact. However, it is true that our aging population, living in the suburbs, needs to travel and owning a vehicle isn't possible for everybody. In addition, the Korean automaker believes that offering as service such as Uber is logical for this portion of the population. Mr. Lancaster also pointed out that the generation in question here buys less and less vehicles.
Some interesting visions for the near future, but history has taught us that no one can remain idle to the imponderables of progress. Elon Musk might succeed in achieving his goals, and force the adoption of autonomous electric vehicles. And we never know, a new Elon Musk could even drag humanity and its means of transportation in a completely different direction.
To quote Robur, a fictional character created by writer Jules Verne, "it is evolution, not revolution, that nations should be seeking." It seems as though our five guest speakers read Verne's work, since they all seemed to be heading in that direction.