A MINI Cooper Beat a Record on the Nurburgring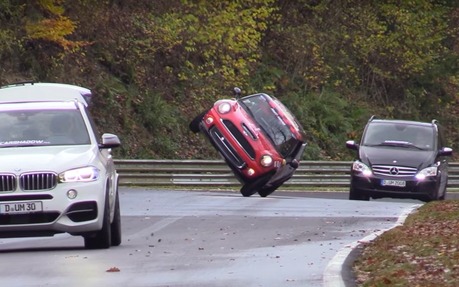 Most of you probably know the Nurburgring. For those who don't, it's a challenging big racetrack in Germany that's open to the public. Fow a few years now, it has become a battleground on which manufacturers fight for speed records, therefore proving their superiority over their rivals.
The current lap record for a production car is held by Porsche and its 918 Spyder, which ran the track in 6 minutes 57 seconds. By comparison, the Honda Civic Type R did it in 7 minutes 50 seconds, which is the fastest time for a production front-wheel-drive car.
However, a MINI Cooper just beat the record… in style! The MINI took 45 minutes to go around the Nurburgring, which is nowhere fast, but it did it on two wheels, like you can see on the picture above.
A driver that goes by the name of Han Yue managed to keep his car balanced, thanks to special wheels and tires, the latter having reinforced sidewalls to handle the weight of the car. Yue believes he could have done it faster, but he felt a worrisome vibration above 20 km/h, which is why he limited his pace at an average of 28 km/h over the 20.64 km of the track.
Nevertheless, it's a funny exploit worth mentioning. Fortunately, it was filmed!