2016 MINI Cooper S Convertible: Tons of Fun in a Small Package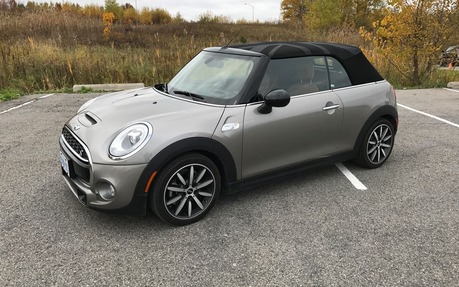 At a time when bloating SUVs and crossovers are making a comeback, it's a relief to see MINI is still going strong with their array of small-car offerings. As one of its newest lineup additions, the MINI Convertible is the first open-top MINI to be powered by the BMW Group's new family of modular engines.
That engine is a turbocharged, 2.0-litre four making 189 horsepower, but if that's too much for you to handle, you can opt for the base Cooper model, which has a turbo, 1.5-litre three-cylinder mill with an output of 134 horsepower. Both versions share a six-speed manual transmission as standard equipment and the optionally available, six-speed Steptronic automatic has been newly developed for the latest MINI generation.
The premium four-seater soft-top convertible is small, but doesn't feel like it when sitting inside. MINI interiors are unique in the industry and remind me of an airplane cockpit more than anything. Aviation-style switches are a really nice touch to jazz things up and give it that "fun" factor. Build quality is very high and everything feels very sturdy to the touch. The $2,250 Chester leather seats are things of beauty, both visually and comfort-wise.
You'll see many similarities between BMW's iDrive infotainment and MINI Connected as the two are closely related. The dial-wheel interface is the same knob as you'd find in any BMW, but the placement is slightly awkward and the armrest hinders accessibility.
As you can see from the photos, MINI has a big round centre display as opposed to the standard rectangular screen. Around the circular panel are LED lights that can perform a variety of functions. For example when you adjust the volume, the lights move in conjunction with the knob and it can also act as a digital tachometer which is just amazing. The lights also change colour depending on which menu setting you're navigating at the present time. Company engineers should be praised for this kind of originality, but they also need a scolding for making us press the engine start/stop button TWICE to shut the car off completely.
I'm not sure how MINI does it, but despite being a small car, the seating position doesn't feel any lower compared to other cars. People might like small cars for city driving, but not everyone likes to feel like they're driving a tiny package around town. With the MINI this is a non-issue.
Driving the Cooper S Convertible is as fun as you might think. There is so much low-end torque that it makes each stop sign or red light fun because you get to accelerate from a stop and feel that pull once again. You can feel like you're zipping around town, but without having to reach high speeds in order to get excitement. Handling is go-kart levels of awesome and the MINI can also stop on a dime.
Keep in mind convertibles have added wind noise in the cabin and reduced outward visibility compared to hardtop models, but it's nice to be able to drop that sucker and cruise on a sunny day. Visibility actually suffers more when the top is down as it doesn't retract completely into the trunk. The top can also function as a simple sunroof, opening a portion of the way. A newly designed rollover protection system located in the rear belt outlet, and disguised by black caps with chrome trim, activates within a fraction of a second in an emergency to protect passengers. Another nice touch is the woven union jack soft top available with the MINI Yours design package and echoes MINI's British heritage.
The latest generation base-model Cooper Convertible arrives in Canada without any increase in price ($28,480) versus its predecessor. The Cooper S Convertible debuts with a very modest $90 increase compared to the previous generation and rings in at a fairly reasonable $32,740 before freight charges.
What's nice with the MINI is that the options are not too expensive. Navigation is $1,500, but the Essentials package which gets you a wind deflector, heated front seats, park distance control and fog lights is only $1,200, as is the Loaded package which gets you the sport suspension, dynamic dampers, comfort access, auto-dimming mirror, rain-sensing wipers and auto climate control. My tester had all three as well as the LED Lights package ($1,150) and standalone options of 17" wheels, metallic paint and the union jack soft top for a total of $42,230.
MINI delivers on the fun factor with the Cooper S Convertible, so much so that it had me envisioning the possibility of owning one after my test drive. It's a quirky, fun little package that can appeal to more than just your local hairdresser and is absolutely worth checking out if you're in the market for a convertible.
Test drive report
Test model

2016 MINI Convertible

Trim level
Cooper S
Price range
$27,990 – $39,740
Price as tested
32 240 $
Warranty (basic)
4 years/80,000 km
Warranty (powertrain)
4 years/80,000 km
Fuel economy (city/highway/observed)
10,0 / 7,0 / 8,8 L/100km
Options
N/A
Competitive models
Audi A3, Chevrolet Camaro, Ford Mustang, Mazda MX-5, smart fortwo, Volkswagen Beetle
Strong points

High-quality interior
High low-end torque
Go-kart handling

Weak points

Weak outward visibility with top down
Armrest hinders access to controls
Need to press engine start/stop button twice to turn vehicle off

Editor's rating
Fuel economy
Was among the lowest consuming vehicles tested this year
Comfort
Very comfortable to sit in
Performance
Lots of low-end torque
Infotainment
Love how the LED lights function in conjunction with operations
Driving
Fun as heck to scoot around in
Overall
Premium quality, fun to drive, what's not to like?