Audi Q8 concept, a new rival to the BMW X6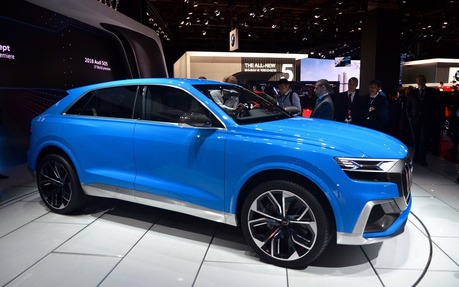 Audi is starting 2017 in a big way by unveiling an all-new SUV at the Detroit Auto Show, the Audi Q8 concept, which will be the inspiration for a production Q8 in 2018.
The Audi Q8 will blend the dynamic styling of a coupe with the versatility of an SUV. It will become a direct competitor to the BMW X6, the Infiniti QX70 and the Mercedes-Benz GLE Coupe.
To get a little attention, the automaker revealed a couple of images before the Detroit show. We can see some styling cues of the Audi e-tron concept, a fully electric SUV that was presented at the last Frankfurt Auto Show. Having announced the launch of several fully electric models within the next five years, it's likely that the Q8 would benefit from an electrified powertrain or at least a plug-in hybrid setup. An SQ8 version is also likely to be in the cards.