2017 Hyundai
Santa Fe

XL: Functional Family Friendly Fun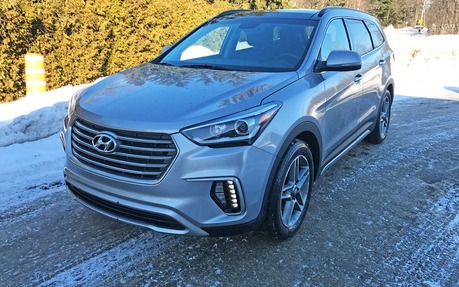 If you spend any time at all speaking with automotive enthusiasts either in person or online, a noticeable trend emerges if the topic relates to Hyundai. More often than not, people are impressed with the direction of the company and the ambition of its lineup. Count me among those people who admire the company's ambition and willingness to listen to what people want and then come out with models along those lines.
I recently had the chance to test a 2017 Hyundai Santa Fe XL Limited for a week in order to see how it could handle my family's ever-expanding transportation requirements. As an enthusiast, I obviously jump at the chance to get behind the wheel of a sports car, but as a family man, the quest for the ultimate family hauler is equally fun to explore.
Overhauled in 2014 and refreshed for 2017, the Santa Fe XL is the company's largest vehicle and goes head to head with the likes of the Honda Pilot, Toyota Highlander, Nissan Pathfinder, Kia Sorento, GMC Acadia and Ford Explorer, among others. The Santa Fe's base MSRP of $28,599 is the least expensive of the bunch by almost $4,000, which is no small change. Any time you have that amount of incentive to buy your product you are one step ahead of the competition before anyone has even seen the vehicle.
The Santa Fe has tamer looks compared to the competition, but it still quite elegant and comes in two flavors, Sport and XL. As you can probably guess, the XL is longer and includes three rows of seats. Exterior modifications in the 2017 refresh include a redesigned front fascia with new headlight design, updated rear fascia design with new taillights and dual exhaust outlets, new alloy wheel options, new rocker panel trim, available LED daytime running lights, and available LED fog lights (Santa Fe XL only).
Sitting inside, we find a highly functional and ergonomically sound cabin with a few new items. The centre console has been tweaked to accommodate a range of touchscreen displays. A 5.0-inch unit is standard, but the Santa Fe XL gets a 7.0-inch display and can even be upgraded to 8.0 inches along with a navigation system with Android Auto.
The 7.0-inch screen I used was just fine, as Hyundai's infotainment system is functional and didn't take long to get used to. There is also a new drive mode selector with Sport, Eco and Normal modes that we are all familiar with. What's nice about the Santa Fe XL's cabin is that it's very easy to use. Everything is right where it should be (except for the fuel filler door latch on the side of the driver's door) and coupled with a comfortable seating position, it makes this an ideal road trip vehicle.
Entry in and out of the third row was easy for the toddlers, but as is common place, tall adults will still struggle. Middle-row captain's chairs can slide forward or back, making this configuration similar in practicality to a minivan, but not quite at that level of practicality. As I've said in my other reviews, the first manufacturer to come out with chairs that fold into the floor in an SUV will earn my everlasting praise. For now, it still appears to be a pipe dream for some reason.
One aspect of the Santa Fe's interior is that it lacks a bit in the luxury department. Whereas Honda or Toyota treat the occupants to a fairly high level of pampering in their higher-end models, even this higher-end Santa Fe XL feels rather ordinary. This shouldn't come as a surprise, especially considering the significant advantage in price the Hyundai holds over the competition, but when we're approaching $45,000, one would expect a little more from the cabin experience.
Powering the 2017 Hyundai Santa Fe XL is a 3.3-litre V6 engine that turns out an impressive 290 horsepower and 252 lb.-ft. of torque while mated to a six-speed automatic transmission. The smaller Santa Fe Sport has the option of either a 2.4-liter four-cylinder with 185 horsepower or the turbocharged 2.0-liter four-cylinder engine with 240 horsepower.
The 3.3L V6 was more than willing to haul the SUV up to highway speeds in no time or execute passing manoeuvres on the highway. Fuel consumption in my predominantly highway driving was very good at 10.8 L/100km, but I suspect this would climb quite a bit during city driving. I liked the driving experience but handling was average, even for a vehicle of this size. Hyundai's AWD system handled my icy neighborhood roads and uphill skating rink of a driveway with absolute ease.
When I posted a shot of my test vehicle on social media, three of my friends who owned one chimed in to say how much they loved the vehicle and what a great purchase it has been for them. At the daycare centre, we had three Santa Fe XLs lined up one behind the other—a testament to its family-hauling prowess. It goes without saying that the Santa Fe should definitely be at the top of anyone's list who is considering a midsized SUV.
Test drive report
Test model

2017 Hyundai Santa Fe

Trim level
XL Limited AWD
Price range
$31,199 – $44,599
Price as tested
44 399 $
Warranty (basic)
5 years/100,000 km
Warranty (powertrain)
5 years/100,000 km
Fuel economy (city/highway/observed)
13,9 / 10,8 / 10,8 L/100km
Options
N/A
Competitive models
Chevrolet Traverse, Dodge Durango, Ford Explorer, Ford Flex, GMC Acadia, Honda Pilot, Kia Sorento, Mazda CX-9, Nissan Pathfinder, Toyota Highlander, Volkswagen Atlas
Strong points

Affordable price
Functional interior
Comfortable ride

Weak points

Cabin could be more luxurious
Average handling
Bland looks

Editor's rating
Fuel economy
Excellent for an SUV
Comfort
Very comfortable all around
Performance
Very capable engine, but average handling
Infotainment
An average system
Driving
Gets the job done with no frills
Overall
A great SUV for budget-conscious buyers