2018 Audi RS 5 Coupé and Q8 sport concept: World Premieres in Geneva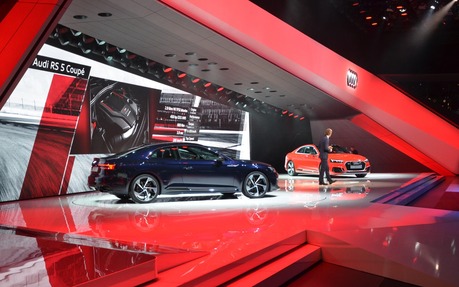 GENEVA, Switzerland – The year 2017 is a good one for the Geneva Auto Show, host of many important vehicle introductions and confirming the unique status of this show in the global automotive industry. This is where German brand Audi held the world premieres of the new-generation RS 5 Coupé in addition to its competition counterpart, the RS 5 DTM. The latter is the automaker's latest entry in the Deutsche Tourenwagen Masters championship, or the German touring car racing series.
The new RS 5 Coupé is equipped with a twin-turbo, 2.9-litre V6 whose blowers are spun by electric current instead of exhaust gas recirculation. Output is rated at 450 horsepower and 453 pound-feet of torque. This new model is built on the Volkswagen Group's MLB platform, which allows the car to weigh about 75 kilograms less than the previous generation.
This weight savings, combined with the greater torque output, should help the new RS 5 Coupé blast from 0 to 100 km/h in about four seconds. Its design is inspired by the famous Audi 90 quattro that dominated the IMSA GTO championship a few years ago. We immediately notice the flared fenders, the oversized air vents up front as well as the carbon fibre roof that's available as an option. The RS 5 Coupé also receives sport seats and a flat-bottomed, sport steering wheel.
The RS 5 DTM model meets the championship's new regulations, which means its 4.0-litre V8 engine develops at least 500 horsepower while the car's aerodynamic downforce has been toned down. The first tests of the RS 5 DTM coupe will be held mid-March on the Vallelunga circuit in Italy, before the first race of the season in Hockenheim in May.
A surprise unveiling
Rumours were circulating that Audi would present a more potent version of the Q8 concept in Geneva, and they were founded as the Q8 sport concept was indeed unveiled at the show. This new vehicle boasts a more aggressive look than the Q8 concept that was on display earlier this year at the Detroit Auto Show, and it's more powerful as well.
The Q8 sport concept relies on a 3.0-litre V6 that features an electric supercharger. This combustion engine is also matched to an electric motor, making the Q8 sport concept a hybrid vehicle. Combined output is rated at 476 horsepower, and the automaker expects the Q8 sport concept will hit 100 km/h from a standstill in as little as 4.7 seconds.