2017 Lamborghini Huracán Performante: Even More Beastly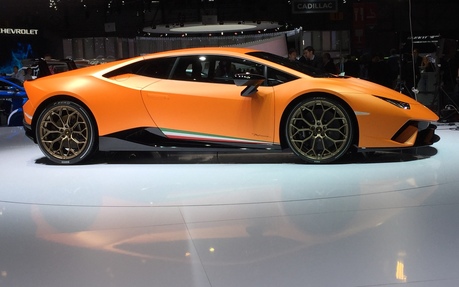 During a private evening just before the Geneva Auto Show media day, the famous manufacturer from Sant'Agata unveiled an even more powerful version of its Huracán, called the Performante. For the occasion, the car flaunted a gorgeous flat orange paint job, Arancio Anthaeus, which cleverly highlights the body's carbon fibre components.
To enhance performance, the car was put on a diet by using a greater quantity of composite materials. According to Lamborghini, the Huracán Performante weighs some 40 kilograms less than the regular production version of the coupe.
In its engine bay lays the same naturally-aspirated, 5.2-litre V10, but the automaker squeezed out an extra 30 horsepower, bringing the total to 640 hp. That muscle is sent to all four wheels through a dual-clutch automated gearbox, and the car can blast from 0 to 100 km/h in as little as 2.9 seconds. Top speed is pegged at 325 km/h.
The car also gets a new system called Aerodynamica Lamborghini Attiva, which enhances the Performante's aerodynamics in specific driving conditions. Thanks to active shutters incorporated in the front fascia, the system can increase downforce at slower speeds or reduce it for achieving top speed.
The 2017 Lamborghini Huracán Performante already showed off its performance potential by recording a lap time of 6:52:01 on the Nordschleife portion of the Nürburgring circuit, beating the record previously held by the Porsche 918 Spyder.
Its suggested retail price is set at USD$274,390.