Volkswagen Sedric Concept, the Future of Mobility According to the German Automaker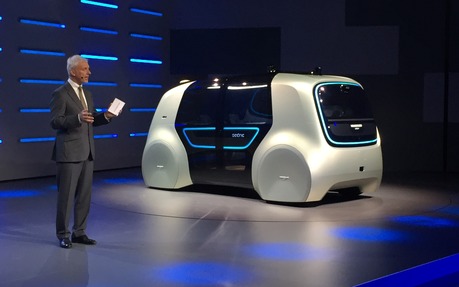 During a private event on the evening before the Geneva Auto Show opened its doors to the media, Volkswagen unveiled several new models they were presenting at the show. What really got our attention is their new concept vehicle named Sedric. During the introduction, Volkswagen Group CEO Matthias Müller mentioned that the automaker was entering a new chapter in which design and technology would be fused into one. He also announced the creation of three global design studios (Europe, Asia and North America) that would put the emphasis on future technologies.
Not only will vehicle electrification be a major part of the Volkswagen Group's strategy, but autonomous driving technologies will play a more important role as well. These announcements set the stage for the unveiling the Volkswagen Sedric Concept, a self-driving car and the first vehicle created by combining the efforts of the automaker's various divisions. It's also the first concept presented by the brand that incorporates level five autonomous driving capabilities, which means it doesn't need a driver.
The Sedric is a vehicle that presents the culmination of urban mobility and autonomous driving. During its presentation, the car drove onto the stage by itself, remotely controlled. As you can see, its styling has nothing in common with current automobiles on the market. Since the car is completely autonomous, it has no dashboard or steering controls in order to maximise interior space and versatility. Like sitting in a living room, passengers face each other to create a working or conversational atmosphere.
When the vehicle approaches, it recognises its driver and opens its two large doors. Once sitting down, all we have to do is indicate our desired destination through the car's voice command system—hoping it works better than the such systems in current vehicles on the market—and Sedric will drive us anywhere we want like a private chauffeur.