2018 Subaru Outback: Subtle Changes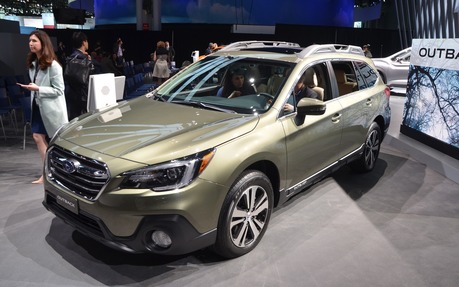 Subaru introduced a new Outback three years ago at the New York Auto Show, and now they've just cast the spotlight on the slightly updated 2018 Outback at the same event.
The changes are pretty minor. There's a new front bumper and redesigned sideview mirrors to reduce wind noise. The Limited version has new wheels and a few extra safety features, including directional headlights.
Less easy to spot are the shock recalibration for enhanced comfort and the more linear power steering. For a quieter ride, they updated the timing chain on the 2.5L engine and fine-tuned several other aspects. And the air conditioner now tames the heat faster than before.
The 2018 Outback keeps its two horiztonally opposed engines, namely the 2.5L four-cylinder (175 horsepower and 174 lb.-ft. of torque) and the 3.6L six-cylinder (256 horsepower and 247 lb.-ft. of torque). These figures are exactly the same as the 2017 model, but the gearboxes have changed. According to the press release, the six-speed manual that was previously offered standard on the base trims is gone, and all that's left is a CVT automatic. To compensate for the loss, the 2.5L Outback will have paddle shifters mounted to the steering wheel to simulate shifting for seven preprogrammed speeds.
The symmetical AWD system now comes with torque vectoring and the gearbox includes the X-Mode system that allows the driver to select their preferred driving style.
All of the 2017 Outback's safety and connectivity features are back this year. There's the STARLINK infotainment system featuring the Best Parking app to help you find parking spots and compare their prices. Meanwhile, the YELP app publishes user-generated reviews on companies (much like TripAdvisor) and Glympse, which allows you to share your geographic location in real time.
The press release didn't state when this vehicle will be available in dealerships. We'll let you know as soon as we find out!