2018 Audi SQ5: Thrilling Within Reason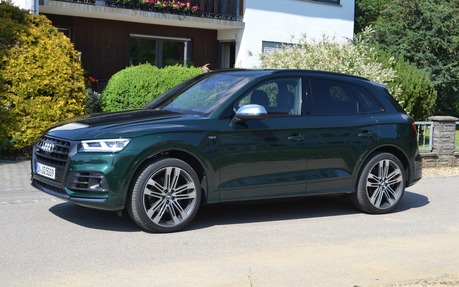 Last fall, Audi introduced the second generation of its compact SUV, the 2018 Q5, a vehicle that quickly rose to the top of the brand's sales charts in Canada. This success came in spite of the fact that there was just one version available with just one engine choice. Buyers will have a wider selection this year, when the more intense 2018 SQ5 arrives on the scene. It aims to breathe fresh energy into the whole lineup and, of course, make you spend a little more.
Was the 2018 Audi SQ5 eagerly anticipated? You betcha. The high-performance model was first introduced in 2012, and the first-generation SQ5 accounted for 10% of sales in Canada, which is actually a lot for a more muscular—and more expensive—version. Canadians have always had a soft spot for this type of vehicle. What can I say? We like having a little more power under the hood.
The same output as the old SQ5
The 2018 SQ5 is based on the new generation of the model, but it boasts a new 3.0-litre six-cylinder engine. Unlike the old supercharged V6, this mill has a twin-scroll turbocharger, and it's the same engine currently found in the new S4 and S5. Surprisingly, it gives you the same 354 horsepower as in the past, but with 23 more lb.-ft. of torque for a total of 369 lb.-ft.—all of which is ready, willing and able at 1370 rpm.
This engine sends power to all four wheels by way of an excellent ZF eight-speed automatic transmission. Speaking of all-wheel drive, if you were disappointed by the base version's new quattro ultra that favours sending power to the front wheels for the sake of better fuel economy, you'll be pleased to learn that the SQ5 will feature the classic full-time, all-wheel drive system. Sure, it comes at the expense of a little engine power, but it does so in the name of improved fuel efficiency. In normal driving conditions, it favours the rear wheels (60/40 ratio) and comes standard with a rear torque vectoring differential.
Suspension about-face
For the very first time, the model is offered with an adaptive air suspension. While it was initially not supposed to be offered on the base versions, Audi has done an about-face and will make it available after all—for an additional fee, of course.
Style-wise, this SQ5 sets itself apart with a more aggressive grille, a rear spoiler and satin-finish side mirrors. Nonetheless, its 20-inch wheels are garnering all the attention, and that goes double for the optional 21-inch wheels designed to give the SQ5 a little more visual punch. We would have liked this version to have distinctive brake callipers, but no such luck. We like this generation's more flared fenders and the quadruple exhaust that's nicely integrated in the bottom of the rear bumper. If you're a wagon fan, you'll love its overall look and feel, which is reminiscent of a car, especially with its slightly lower suspension travel.
A few strategically placed "S" logos highlight the vehicle's intentions. It has the same dashboard, but the Audi virtual cockpit has found its way on board. Not only is the high-tech look of the display kept in check, it's easy to customize and understand, which can't be said for other comparable systems. In other words, you won't get lost in a labyrinth of menus. The seats are extremely comfortable, although with a bit less room for the rear passengers.
Not brutish, just sportier
If you're expecting this to be a race car, you may be disappointed. The SQ5 is sportier, but it's not a brute. It's just not extreme enough. An RS Q5, if it existed, would really fit that description. In this case, you can expect to enjoy the more noticeable purr of the engine, particularly in Sport mode, but when you put the pedal to the metal, a little more sportiness would be nice.
It goes from 0-100 km/h in about 5.4 seconds and its average fuel consumption is 8.3 L/100 km, which is pretty good for an SUV with such good capabilities. This is where its more moderate temperament pays dividends and the new engine proves its worth compared to the old one.
Nothing bad can be said about the eight-speed transmission. It's fast and very efficient, allowing you to shift manually using paddles located behind the steering wheel. The lower gears are short and close together, which promotes sportiness, while the higher gears are a little further apart to maximize fuel economy and contribute to a comfortable, quiet ride.
The optional air suspension tempers the road's imperfections reasonably well and makes for a higher level of customization when driving. When paired with the drive mode system, which helps you select various driving programs that modify the accelerator's reactions, the steering's firmness and the way the engine and transmission respond, you get a vehicle that reflects your personality on the road.
Basically, the 2018 Audi SQ5, like the S4 and S5, adds a degree of sportiness without morphing into a real beast like some Mercedes-Benz AMG or BMW M SUVs.
Its starting price is $66,790 compared to $54,200 for the regular Q5. You can head to your local dealership pretty much right away, too, as the 2018 SQ5 will be available for sale in the new few weeks.
Test drive report
Test model

2018 Audi Q5

Trim level
SQ5 3.0 TFSI quattro Progressiv
Price range
$44,950 – $65,900
Price as tested
61 300 $
Warranty (basic)
4 years/80,000 km
Warranty (powertrain)
4 years/80,000 km
Fuel economy (city/highway/observed)
N/A
Options
N/A
Competitive models
Acura RDX, BMW X3, BMW X4, Land Rover Discovery Sport, Land Rover Range Rover Evoque, Lexus NX, Lincoln MKC, Porsche Macan, Volvo XC60
Strong points

Interior layout and finish
Lag-free power
Extremely sporty style
Efficient quattro all-wheel drive
Reasonable fuel consumption

Weak points

A tad too understated
Engine sound
Gets expensive fast

Editor's rating
Fuel economy
Good progress has been made.
Comfort
Very comfortable on board and on the road.
Performance
We would have liked a little more.
Infotainment
Simple and efficient.
Driving
A good dose of sportiness compared to the basic version.
Overall
Simply one of the best compact SUVs.