2017 Buick Encore: Time Doesn't Stand Still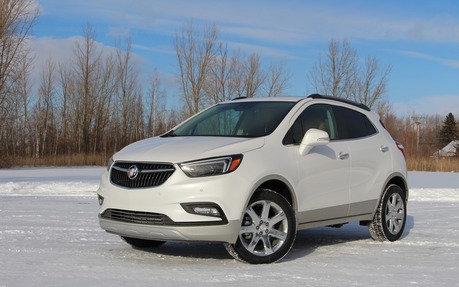 The little Encore brought some fresh air to the Buick range when it was introduced for the 2013 model year. A vehicle destined for a younger clientele, or an older one in the case of empty-nesters, a lot of buyers were convinced by its accessible price, its ritzier style than that of the Chevrolet Trax – its cousin – and its manoeuvrability in the urban jungle.
Despite obtaining some changes and improvements for 2017, the little Buick SUV has trouble hiding its age, especially as one or two new rivals hit the market each year. And the latter are more powerful, more fuel-efficient and boast a higher-quality finish, although they're more expensive, too.
Subcompact-sized, the Encore offers adequate room up front, and in back, we can feel a little cramped. On longer drives, such as being stuck in traffic during rush hour, we quickly realised that seat support could've been better. At least the high roofline allows occupants to sit straight, which requires less space in the footwells. However, three people sitting across the rear seat will be truly unhappy – if they even succeed in buckling their belts.
As for cargo space, we nonetheless benefit from a useful volume of 532 litres. Which we can expand to 1371 litres by folding down the rear seatbacks, which requires us to flip up the cushions beforehand, and yet the load floor isn't completely flat.
The Premium trim level, the one we drove, includes nicely stitched leather upholstery, and some details deserve praise, such as the contrast stitching on the dashboard and the steering wheel. On the other hand, the piano black trim collects dust rather quickly, but the biggest problem, once again, is GM's obsession with low-grade plastics that dress up the bottom part of the cockpit.
However, the IntelliLink infotainment system with its eight-inch touchscreen is easy to use while driving, with its big button zones and reactivity to finger poking. A Bose seven-speaker stereo and a navigation system are included in the Premium version, optional in the Essence version, the most expensive ones.
The 2017 Buick Encore is equipped with a turbocharged, 1.4-litre four-cylinder engine, mixed with a six-speed automatic transmission, which produces a modest 138 horsepower. Modest compared to a 228-hp BMW X1, a 200-hp Audi Q3 or to the Mercedes-GLA and Infiniti QX30, both motived by 208-hp powertrains.
The little four-banger struggles to move the Encore forward with authority, especially during passing attempts. At wide-open throttle, it's not the quietest engine out there either. In addition, we recorded a fuel economy average of 9.8 L/100 km during our winter test, rather unimpressive for a vehicle of this size.
A more powerful version of the 1.4-litre turbo engine is available as a $1,030 option. Its 153 horsepower and 177 pound-feet of torque make the 2017 Buick Encore a little livelier, but we still quite far from its rivals' performance levels. With its automatic start/stop system, consumption drops by a few decimals, which compensates slightly for the extra cost of the engine upgrade. To be considered to make the Encore more enjoyable.
On the road, the little SUV has a harsh ride and, despite excellent cabin sound insulation, the noise of the suspension at work nonetheless seeps through. On the highway, we must constantly bring corrections to the wheel in order to keep a linear trajectory. Nothing major, but the competition does better.
The 2017 Buick Encore starts out at $23,395 before freight and delivery charges, thousands less than what other brands charge for their subcompact models. However, in return, we get a lightly-equipped vehicle with a front-wheel drivetrain. Obviously, AWD is preferable to confront our Canadian winters, which cranks up the price to $27,895. Climbing the ranks and adding some options, such as a panoramic sunroof, navigation and the more powerful engine, we end up with a little Buick crossover that costs upwards of $38K.
Despite its more affordable price compared to its BMW and Mercedes-Benz rivals, we don't benefit from their brand prestige. Or their refinement. Or their performance. Nevertheless, the Encore is selling more than ever, and if the trend continues, it should beat its own annual sales record. Even if it's far from perfect, even if it's getting old, the popularity of the urban luxury SUV segment undeniably works in its favour.
Test drive report
Test model

2017 Buick Encore

Trim level
Premium AWD
Price range
$23,195 – $34,195
Price as tested
34 195 $
Warranty (basic)
4 years/80,000 km
Warranty (powertrain)
6 years/110,000 km
Fuel economy (city/highway/observed)
10,2 / 8,0 / 9,8 L/100km
Options
Buick Experience Package ($1,790)
Competitive models
Audi Q3, BMW X1, Infiniti QX30, MINI Countryman
Strong points

Accessible price
Good infotainment system
Interesting cargo capacity

Weak points

Not much rear-seat room
Low-rent cabin plastics
Somewhat uncomfortable ride

Editor's rating
Fuel economy
Despite its size and engine displacement, fuel economy could be better.
Comfort
A well-insulated cockpit, but suspension noise can still be heard.
Performance
The base 138-hp engine has its work cut out for it. The optional 153-hp engine is worth considering.
Infotainment
The IntelliLink interface is easy to use while driving.
Driving
Ride comfort is obviously favoured compared to performance and driving dynamics.
Overall
The Encore is far from perfect, but its affordable price compared to its rivals ensures its popularity.