The new Hyundai i30 N Revealed!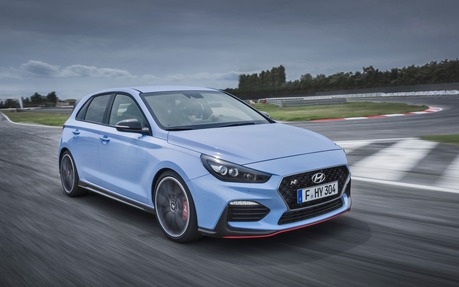 The Korean brand's very first N model, a much-anticipated one at that, has just been unveiled. The Hyundai i30 N—the European version of the Elantra GT sold here in Canada—marks the debut of the company's high-performance division, and will rival the likes of the Volkswagen Golf GTI, the Honda Civic Si, the Ford Focus ST and the Subaru WRX.
Born in Korea, developed on the Nurburgring track in Germany, the i30 N relies on a turbocharged, 2.0-litre four-cylinder engine that develops 250 or 275 metric horsepower—according to the version—and 260 pound-feet of torque. This output is sent to the ground via a six-speed manual transmission and a front-wheel drivetrain. A rev matching function is included, as is a launch control system. The manufacturer announces a 0-100 km/h time of 6.1 seconds and a top speed of 250 km/h.
Hyundai also flaunts the car's handling characteristics, thanks to its electronically controlled sport suspension, its 18- and 19-inch alloy wheels, its precise (according to Hyundai) steering system as well as its electronic limited-slip differential.
The i30 N features five driving modes, including Eco, Normal, Sport, N and N Custom, the latter allowing the driver to personalise the car's individual dynamic settings.
Unfortunately, the Canadian market won't be getting the i30 N or an Elantra GT N, which is a shame. However, the folks at Hyundai Canada did point out that we will indeed be treated to an N model, and that mystery car will soon be announced.