2017 Infiniti QX30: Sharing the Wealth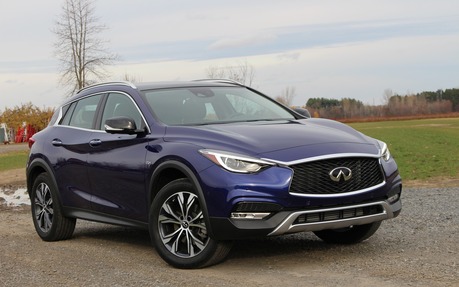 When we were kids, our parents always taught us that we should be nice to other people and share things. And in return, others will share their stuff with us. The folks who manage automobile manufacturers seem to have been well brought up, as more and more companies are now sharing platforms, powertrains, technologies—even complete, fully engineered cars and trucks that simply get a new badge.
Those collaborations result in millions and even billions of dollars in savings, and in a lot of cases, the consumer has no clue that two vehicles which compete against each other in the same market segment—such as the new-for-2017 Infiniti QX30 and the Mercedes-Benz GLA—ride on the same platform and are equipped with the same powertrain. That segment also includes the Audi Q3, the BMW X1, the MINI Countryman and the Buick Encore, while the Jaguar E-PACE and Volvo XC40 will be joining the party as well.
Mechanically speaking, the QX30 uses a lot of Benz components. It boasts a turbocharged, 2.0-litre four-cylinder engine that develops 208 horsepower and 258 pound-feet of torque, connected to a dual-clutch, seven-speed automatic transmission. All German engineered. The SUV is quick on its feet, but not overly powered, either, and doesn't benefit from the most refined or the quietest engine in its class. Over the course of our test, we managed 8.8 L/100 km with the use of super unleaded fuel, which is pretty decent.
The exterior design is the work of Infiniti's artists. The subcompact SUV's stubby profile, small window surfaces and organic curves in the sheetmetal make it stand out in its segment. With its jacked-up body hugging 18-inch wheels, the QX30 looks like a designer hiking boot.
The interior is a blend of German and Japanese styling and finish. The steering wheel, the driver instrument panel and most of the switchgear comes from Mercedes-Benz's parts bin, while the infotainment system is Infiniti's. It all works well together, although the colours and fonts of the graphic displays are not exactly the same. On the other hand, fit and finish is excellent, and the contrast stitching on the steering wheel and the dashboard looks good.
We found the seats to be comfortable for short trips, but they lacked support after a couple of hours stuck in traffic. The Audi, and even the Benz, have better chairs. Obviously, space is very limited in the rear-seat area, and just like any of its rivals, the QX30 is more suited to accommodate four passengers than five. Cargo space is in line with what the competition offers—meaning not much—although the rear seatbacks fold down to create an almost-flat load floor.
So far, so good. However, the 2017 Infiniti QX30 has one main shortcoming, that being a less-than-comfortable ride. It boasts the longest wheelbase in its class, and yet it feels like the shortest, and the suspension has trouble absorbing bumps and potholes. Infiniti's little SUV handles well, but the compromise is some harshness during the daily drive.
The QX30 starts out at a relatively low $35,990 before freight and delivery charges, but that's for the base, front-wheel drive variant. In Canada, an all-wheel-drive SUV not only makes more sense for confronting the winter season, but should hold its value longer for that same reason. The QX30 AWD costs $38,490, still a good deal, but if we want all the bells and whistles included in the Premium and Technology packages—including a 10-speaker BOSE stereo, a panoramic sunroof, navigation, precollision warning, adaptive cruise control, blind spot monitoring and a 360-degree camera system, among other things—we have to dish out $46K.
And then there's the QX30 Sport, which benefits from 19-inch wheels wrapped in run-flat summer tires, sportier bumpers, sport seats and the AWD version's option packages, all for $46,490. We'd stick with the QX30 AWD.
With an alluring design, a just-right size for the urban jungle and a luxurious-trimmed cockpit, the 2017 Infiniti QX30 has many qualities to please the premium subcompact SUV buyer. We just wish the engine was a little more refined, and overall ride comfort wasn't as harsh. Still, in a market segment that's gaining in popularity every day, the QX30 doesn't have to be perfect to sell well. And by sharing development costs with Mercedes-Benz—which isn't a bad business partner to start with—the vehicle's price is very competitive. The Infiniti is a few steps behind the arguably class-leading BMW X1, but it's more affordable.
Test drive report
Test model

2017 Infiniti QX30

Trim level
AWD
Price range
$35,990 – $46,490
Price as tested
45 990 $
Warranty (basic)
4 years/100,000 km
Warranty (powertrain)
6 years/110,000 km
Fuel economy (city/highway/observed)
10,6 / 8,0 / 8,8 L/100km
Options
Premium Package ($5,000), Technology Package ($2,500)
Competitive models
Audi Q3, BMW X1, Buick Encore, Jaguar E-PACE, Mercedes-Benz GLA, Volvo XC40
Strong points

Attractive design
Interior fit and finish
Competitive price

Weak points

Tight rear-seat area
Uncomfortable ride
Engine could be more refined

Editor's rating
Fuel economy
Pretty good for an AWD utility vehicle
Comfort
The firm suspension fails to provide a comfortable ride
Performance
Good acceleration, although the engine can get a little noisy
Infotainment
Easy to use while driving, and has a good amount of features, but lacks Apple CarPlay and Android Auto integration
Driving
Handles well, and good manoeuvrability around town
Overall
The QX30 is a fine entry-level luxury SUV, with a competitive price and a great design, that could just use a little more polishing.