2017 Toyota Corolla iM: I am Cool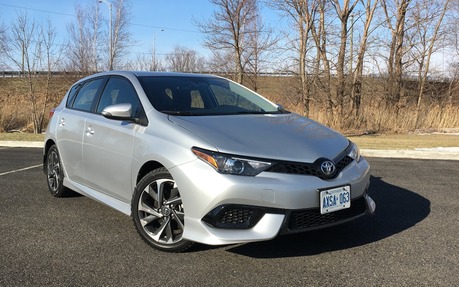 The Corolla's reputation for being a bland and beige car will stick to it for quite a while. Yet in the past few years, Toyota worked hard to give it some more character, with sharper styling, livelier steering feel and more dynamic road manners. It also eliminated the popular beige colour from its palette.
Not many people seeking thrills behind the wheel will cross-shop the Corolla with a Mazda3 or a Volkswagen Golf. But that's ok, because most compact-car buyers simply need a reliable, fuel-efficient and comfortable vehicle, and the Toyota scores on all counts.
However, there's a new five-door model in the lineup. The 2017 Toyota Corolla iM is a refugee that escaped the sinking island of Scion, where it was called the iM. Cooler than the sedan? Yes. More exciting? Not really.
It does have the merit of standing out in the compact hatchback crowd, if only because of its 90s-style aerodynamic add-ons. Some like it, some think it's overdone, but that's usually Toyota's way of making one of their models look sportier. The 2018 Toyota Camry XSE is another case in point. Still, the iM is attractive in its own way, like a Corolla wearing sunglasses.
The Corolla iM is based on the European Toyota Auris, and rides on a different platform than the sedan. That's why their wheelbases aren't the same—2600 millimetres for the iM, 2700 for the Corolla sedan. The five-door is slightly more engaging, thanks to its sportier suspension calibration, but the ride is still comfortable as to not offend typical Toyota customers.
Under the hood is a 1.8-litre four-cylinder engine that develops 137 horsepower and 126 pound-feet of torque. A modest output, perhaps, and our test car was equipped with the optional continuously variable automatic transmission. This not-so-dynamic duo can get the car up to speed without breaking a sweat, but doesn't provide a goosebump-inducing driving experience.
As for fuel economy, the 2017 Toyota Corolla iM's city/highway ratings are 8.3/6.5 L/100 km with the automatic gearbox—a few tenths lower than with the manual—and we managed a very decent 7.5 L/100 km over the course of our test winter test.
The interior design of the iM is modern, although there's a lot going on here. There's contrast stitching on the steering wheel, a silver strip on the top of the infotainment screen and centre stack, piano black trim and white stitched padding on the passenger side of the dash. Build quality is beyond reproach, despite the presence of some cheap plastics here and there.
Among compact hatchbacks such as the Mazda3 Sport, the Honda Civic, the Chevrolet Cruze Hatch, the Subaru Impreza and the Volkswagen Golf, the Corolla iM is one of the biggest in regards to front-seat headroom, but one of the smallest for leg and shoulder room. As for cargo space, the hatchback cutout is pretty big, but interior volume is below average, down there with the Mazda3 and the Impreza.
The 2017 Toyota Corolla iM's infotainment system includes many features, but there aren't any buttons to control it, which can be distracting while driving. The touchscreen isn't the most sensitive either, and there is no Apple CarPlay or Android Auto integration, either.
Pricing starts at $22,540 before freight and delivery charges, which sounds steep compared to the MSRPs of its rivals. However, the iM comes fully equipped with heated front seats, 17-inch alloy wheels, a rearview camera, dual-zone climate control, power-folding mirrors, forward collision alert and lane-departure warning. No power sunroof or heated steering wheel, though. The only option is the automatic transmission, which raises the price to $23,375. Once we load up its competitors with a similar set of features, they're all within a few hundred dollars of each other.
The 2017 Toyota Corolla iM is an interesting choice for the brand's loyalists. It drives well, consumes little fuel and looks neither bland nor beige. Like most Toyota products, it will likely provide years or worry-free motoring. However, in terms of design, performance and infotainment features, there are slightly better choices on the market.
Test drive report
Test model

N/A

Trim level
Base (Auto)
Price range
$22,540 – $23,375
Price as tested
23 375 $
Warranty (basic)
3 years/60,000 km
Warranty (powertrain)
5 years/100,000 km
Fuel economy (city/highway/observed)
8,3 / 6,5 / 7,5 L/100km
Options
Continuously variable automatic transmission ($835)
Competitive models
Chevrolet Cruze, Fiat 500L, Ford Focus, Honda Civic, MINI Clubman, Subaru Impreza, Volkswagen Golf
Strong points

Reputation for reliability and resale value
Hatchback versatility
Comfortable ride

Weak points

Lacks some features offered by the competition
Fussy infotainment interface
Not quite as spacious as some rivals

Editor's rating
Fuel economy
Pretty efficient, despite the lack of modern fuel-saving technologies.
Comfort
Decent ride, good seats, a little short on space for back-seat occupants.
Performance
Nothing thrilling here, especially with the automatic transmission, but fine for getting from A to B.
Infotainment
Accessing the system's features is usually a multi-step process, and the touchscreen could be more sensitive.
Driving
There are more engaging cars to drive in its category, if that's what we're looking for, obviously.
Overall
A Corolla by name only, but a cool Corolla nonetheless.