Ferrari 812 Superfast: Old Name, New Technology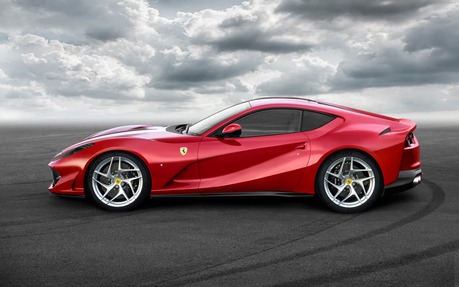 When Ferrari unveiled its 812 Superfast at the 2017 Geneva Motor Show, it was nodding to the past, celebrating the present and staring audaciously at the future. The new model, a revival of the legendary Italian carmaker's 60s-era Superfast moniker, delivers Ferrari's latest innovation in V12 technology and departs from the trend of ever-smaller turbocharged engines.
The 812 Superfast, a successor to the F12berlinetta, sports a 6.5-litre V12 engine and boasts an impressive 800 horsepower and 530 lb.-ft. of torque. Weighing in at just over 1600 kg, its performance looks promising and Ferrari's claim of a 0-100 km/h time of 2.9 seconds seems entirely plausible. Thanks to its rear-mounted transmission, the car's weight is ideally distributed.
The 812 Superfast is the first Ferrari to use a highly sophisticated electric power steering system. It also features same-direction rear-wheel steering, ensuring optimal handling. This innovation is part of an amalgamation of electronic systems aimed at improving safety and enhancing ride quality. The Brembo Extreme Design brakes, which had previously equipped the legendary LaFerrari, will be the most powerful ever developed by Ferrari, according to the automaker.
If your priority is comfort and trunk space, the 812 Superfast, with just 300 litres of trunk space, is probably not your best bet. And with a price tag in the area of $500,000, you should probably establish your priorities before signing a cheque.