2018 Buick Enclave: Introducing the Avenir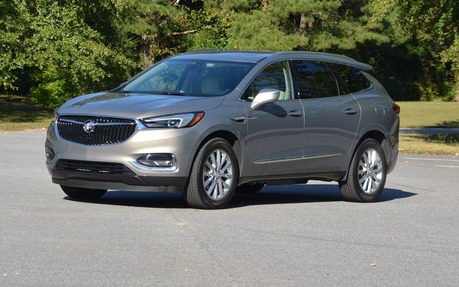 General Motors' Chevrolet Traverse, GMC Acadia and Buick Enclave cousins have been updated from A to Z, and the Enclave is the last to get the shock treatment. As for the Acadia, it is splitting from its colleagues to become a "small" intermediate SUV. The two others are full-size intermediates, if you can say that.
Back to the Avenir
So, the Enclave is brand new and although the overall lines are different from those of the Traverse, it shares the same platform. Buick took another look at the Enclave's selling strategy and determined that since GMC models already equipped with the Denali luxury package sell very well, perhaps they should do the same with Buick. For the name, the noble American brand didn't have far to look.
At the 2015 Detroit Auto Show, they unveiled a superb sedan known as the Avenir Concept. As the French word for "future," Avenir seemed an appropriate name for Buick's equivalent of Denali over at GMC. In the case of the Enclave, the Avenir version is primarily cosmetic and adds a few luxury accessories.
In Canada, the 2018 Buick Enclave will come in three versions: Essence, Premium and Avenir. The basic version, the Essence, will come with standard front-wheel drive or optional all-wheel drive, which is a given on the other two variants. The Avenir is easily recognizable thanks to an exclusive front grille that departs from the "waterfall" motif.
Mechanics
The Enclave is powered by a 3.6-litre V6 that develops 310 horsepower at 6800 rpm and 266 lb.-ft. of torque at 2800 rpm. This engine is no spring chicken, but it gets the job done with good acceleration and pickup while offering a nice sound.
During our day-long test drive, we recorded an average of 9.8 L/100 km on the highway at a constant speed. Driving slightly more aggressively on a winding secondary road, we recorded an average of 12.2. These figures are decent, but a Honda Pilot does better.
With the right equipment, the Enclave can tow up to 5000 pounds (2268 kilograms). We were able to tow a boat and trailer—4600 total pounds (2090 kg)—on a rather narrow, very winding road with tow mode engaged to keep the engine revs higher and benefit from a better engine brake. We couldn't drive fast enough to judge whether the Enclave has a tendency to sway, but it took all of two seconds to determine that the exterior rearview mirrors are not wide enough for towing. We were also able to test the Range Select feature.
What is Range Select?
It's a mode that lets the driver preselect the top gear. When towing in a mountain area, the gearbox must remain in the lower gears to ensure good engine braking. The driver chooses the best gear using paddles behind the steering wheel and the gearbox decides between first gear and the gear chosen. Therefore, the paddles behind the steering wheel aren't used for up- or downshifting like in a sports car, but rather to choose the best gear for towing. It may seem complicated, but it isn't really if you understand what a gearbox does.
The 2018 Buick Enclave's steering is surprisingly precise, though a tad too light. The regular suspension is relatively soft, but that's definitely what the target clientele wants. The Avenir's optional adaptive suspension is less inclined to bouncing, but while driving on the perfect roads of Georgia, it was hard to notice its benefits.
On corners, you have to push the vehicle to feel any roll and we weren't disappointed by the brakes, even when it came to slowing the vehicle and its 4600-pound load. All Enclaves, except the basic version, come with all-wheel drive, which must be activated by the driver using a button on the dashboard. If the driver never presses this button again, all-wheel drive will remain permanently engaged. Don't ask me why this AWD isn't automatic like the systems in many other manufacturers' vehicles.
Comfort and user-friendliness
Comfort is king. The ride is impressively quiet and the cabin makes passenger well-being a top priority. The front seats are very comfortable (the opposite would have been surprising), as are the second-row captain's chairs. After spending nearly two hours on the rear bench, I can confirm that it sits too low and if the front seat isn't moved forward, you'll have to leave your feet at home. Then again, I've seen worse. Note that the Enclave can seat up to seven passengers.
As for connectivity, General Motors is offering 4G LTE Wi-Fi technology with various monthly plans available in Canada. The 1 GB plan costs $15, the 4 GB plan is $35 and the 10 GB plan is $70. Connecting your cellular via Android or Apple CarPlay is a cinch, and the different menus are easy to navigate.
There are plenty of storage spaces, but the rear camera mirror is the most notable feature. The high-definition rear camera gives you a better view than a conventional rearview mirror. I thought I'd have a lot of problems getting used to an image captured by a camera rather than my eyes, but after a few hours, I had already forgotten about it. What's unnerving is when you're speaking to someone seated in the back. If you look in the rearview, like you're used to doing, you'll just see the image of what is going on behind the car. It's a bit like talking to a "ghost." Those who don't like this high-tech camera setup can press a button to get a good old traditional mirror.
Basically, the 2018 Buick Enclave isn't going to revolutionize the small world of intermediate SUVs, but it pushes the envelope a little further. And with the arrival of the Avenir trim level, Buick is looking towards the future.
Pricing for the Canadian market:
Buick Enclave Essence with front-wheel drive: $49,495
Essence AWD: $52,495
Premium AWD: $57,495
Avenir AWD: $63,495
Test drive report
Test model

2018 Buick Enclave

Trim level
N/A
Price range
$49,495 – $63,495
Price as tested
63 495 $
Warranty (basic)
N/A
Warranty (powertrain)
N/A
Fuel economy (city/highway/observed)
13,8 / 9,4 / 12,2 L/100km
Options
N/A
Competitive models
Acura MDX, Chevrolet Traverse, Honda Pilot, Infiniti QX60, Jeep Grand Cherokee, Kia Sorento, Land Rover Discovery, Lexus GX, Lincoln MKX, Mazda CX-9, Nissan Pathfinder, Toyota Highlander
Strong points

Style is pleasant without being nondescript
Superior comfort
Decent power
Well-designed rearview "screen"
Surprisingly good handling

Weak points

Very steep price
Light steering
All-wheel drive activation requires the driver's intervention
Outside rearview mirrors are too small for towing
Avenir version should be more exclusive

Editor's rating
Fuel economy
12.2 L/100 km is good, but it could be better.
Comfort
Nothing negative to say whatsoever.
Performance
We weren't able to measure performance, but Buick is promising a 0-96 km/h (0-60 mph) time of 7.1 seconds, which, after our test drives, seems feasible.
Infotainment
User-friendly, versatile, easy to use, USB ports in each row—what more could you ask for?
Driving
Driving a big Buick is rarely an exciting experience, and the Enclave is no exception. However, it's exactly what its target buyers want, so it's hard to criticize.
Overall
The Enclave, and especially the Enclave Avenir, is loaded with technology while offering a high level of comfort. But it's pricy.