Lamborghini Aventador S: Performance and Intensity Dialled Up to 11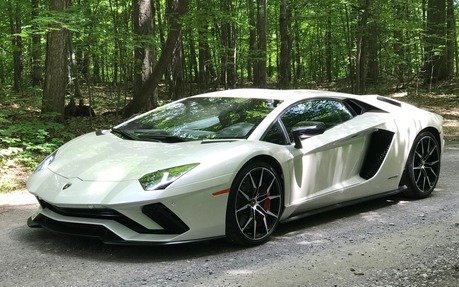 Lamborghini's Aventador S is a beast of a car. It is brutishly fast, sings with a bold expansive voice like Pavarotti in his heyday, and every inch of its body looks like it means business. This car is just over the top. Performance is nothing short of spectacular and the driving experience is intense in every way. My contact with the Aventador S was twofold. I first drove it on public roads around Montreal for a few days, and later got to drive it around Canadian Tire Motorsport Park's Driver Development track.
For everyday driving, there is one switch on the dashboard that you will activate most often. It's called the hydraulic front-end lift, and raises the front end of the car by 40 millimetres to prevent scraping when accessing a driveway or crossing speed bumps. Even with the front end raised, it is wise to approach said speed bumps carefully and not head-on, but rather with the car at an angle, gently lifting one front wheel first and then the other. Clearly, this car was not designed for city driving.
Accessing the cabin requires flexibility, visibility is problematic at best, and even simple manoeuvres like parallel parking require a great deal of care. So, living with the Aventador S as a daily driver requires a high degree of commitment. Then again, almost all Lamborghini owners will also have a gaggle of other, more practical vehicles at their disposal for everyday driving, but when you want to hit the town for the evening in your flashy car, it is best to keep the above in mind.
Also, in the car-obsessed culture of Québec, you quickly become the centre of attention wherever you go, and will sometimes have to take evasive action when another driver slowly creeps into your lane while trying to take a photo of the Lambo with his cellphone. You will also have to say the words "Five hundred and fifty thousand dollars" and "730 horsepower V12." Often. Up to fifteen times a day if you're a nice guy. Every. Single. Day.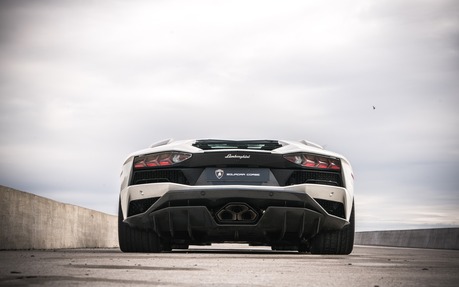 The Aventador S on CTMP's DDT
The 2017 Lamborghini Aventador S is equipped with a rear-wheel steering system that turns the rear wheels in the opposite direction of the front wheels by up to 3.0 degrees when the car is driven at low speeds to improve manoeuvrability, and turns them in the same direction as the fronts up to 1.5 degrees to ensure better handling in quick lateral transitions and fast corners. This setup allows the Aventador S to respond with immediacy to initial turn-in and reduces the understeer that is typical of all-wheel-drive performance cars. At high speeds, the car feels solidly planted.
The one glaring weak link of the Aventador S is its single-clutch paddleshift gearbox. Even when driven at speed on the track, this gearbox is slow to shift and the car's balance can upset by the sudden surge of power that occurs after an upshift.
Compared to the seamless power delivery of today's dual-clutch gearboxes, the Aventador's transmission is pure analog. Also analog is the Aventador's naturally aspirated, 6.5-litre V12 engine. A lot of today's performance cars are powered by turbocharged engines that deliver torque across a wide plateau, making them very tractable, but the big Lambo is keeping the faith with lots of displacement and an 8500-rpm redline, which is a lot of revs for a V12 engine. At full song, this engine just wails owing to a short high-flow exhaust system. Whenever you open the throttle, you can feel the tangible rawness of this car and the drama level is pegged at a full 11.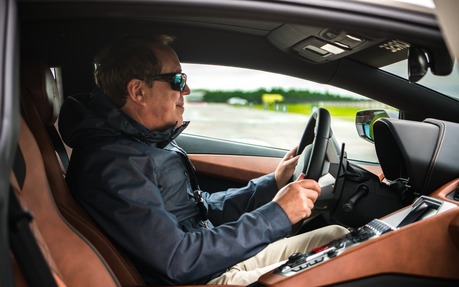 It looks the part
The cabin is cramped, owing to an impossibly low roofline and the width of the centre console. The interior design of the Aventador S is not quite as wild as its bodywork, but it boldly states that this is a flamboyant Italian car. To access the car's starter button, you first have to lift a red cover. It's almost as if the car is asking: "Are you really sure you are ready to fire up the V12?" The rest of the switchgear is pretty straightforward with large buttons to access submenus of the car's infotainment system, which uses a rotary controller similar to the Audi MMI system, and the instrument cluster houses a configurable screen whose display changes according to which mode has been selected by the driver.
The 2017 Lamborghini Aventador S is not for the faint of heart. It's bold, it's wild, it's dramatic, and it requires a high level of commitment both on the track and as a daily driver. But it's an absolute blast to drive.
Test drive report
Test model

2017 Lamborghini Aventador

Trim level
S
Price range
N/A
Price as tested
N/A
Warranty (basic)
N/A
Warranty (powertrain)
N/A
Fuel economy (city/highway/observed)
26.2 / 11.6 / N/A L/100km
Options
N/A
Competitive models
Aston Martin Vanquish, Bentley Continental, Pagani Huayra
Strong points

Powerful V12 engine
Spectacular performance
Exclusivity is guaranteed
Interior fit and finish

Weak points

Single-clutch paddeshift gearbox
Cramped cabin
Comfort level on long drives
Very low ride height

Editor's rating
Fuel economy
Fuel consumption is abysmal, but that's to be expected from a large-displacement, naturally aspirated V12.
Comfort
Accessing the cabin is difficult, visibility is problematic at best and the suspension is harsh even in Strada mode, the softest setting.
Performance
Nothing short of spectacular.
Infotainment
Very similar to Audi's MMI infotainment system and very easy to use.
Driving
Dynamics and performance levels are over the top.
Overall
Not your daily driver, but a thrilling ride on spectacular roads or tracks.