2018 Infiniti QX80 to be presented at the Los Angeles Auto Show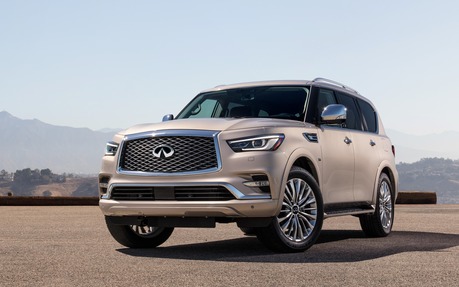 After being unveiled at the Dubai Auto Show last week, the 2018 Infiniti QX80 will be on display at the upcoming Los Angeles show in a few days.
The full-size luxury SUV, which rivals the Cadillac Escalade, the Lincoln Navigator, the Lexus LX and the Mercedes-Benz GLS, has been restyled, but rides on the same platform as before and its overall shape is unchanged. The front fascia gets the most noticeable update, with new headlight clusters and a slightly longer hood. There are new paint colours and alloy wheel designs as well.
The QX80's cabin, which can still seat seven or eight passengers, gets a makeover, too. According to the brand, we'll find new, higher-quality materials for the seats, the door panels and the armrests, including perforated and quilted leather upholstery, double stitching and piping. A choice of interior colours and wood finishes is offered as well. There's also a new steering wheel, a new shift lever, improved sound insulation, an improved rear-seat entertainment system with bigger screens and HDMI input as well as a revised infotainment system up front.
The 2018 Infiniti QX80's powertrain is unchanged, being a 5.6-litre V8 that develops 400 horsepower and 413 pound-feet of torque, matched to a seven-speed automatic transmission and a four-wheel drive system with low range. The brand claims a 0-96 km/h (0-60 mph) time of 7.5 seconds.
Pricing has not yet been announced, but the new QX80 should be on sale in early 2018.