2017 Chevrolet
Bolt EV

: Going the Distance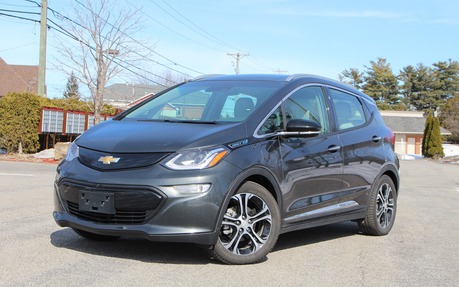 Finally, an electric car that can get the general population to work and back. That allows us to swing by the grocery store along the way. And pick up the kids at the day-care centre. Even if we forgot to plug the car in the night before. And the night before that.
With up to 383 kilometres of range, according to Chevrolet, the Bolt is the game-changer among EVs. In comparison, the Kia Soul EV has an official range of up to 150 km, the BMW i3's is 183, Ford Focus Electric's is 185, the Hyundai Ioniq EV's is 200 and the Volkswagen e-Golf's is 201. The soon-to-arrive 2018 Nissan LEAF's range is estimated at 241 km.
Depending on how far we travel on a daily basis, range anxiety may not be eliminated completely, but having that much range does help ease our worries. And with a growing charge station network between metropolitan areas, we normally should never be stranded aboard the Bolt.
As is the case with a regular, combustion-engine powered vehicle, total range in an EV depends on our driving habits, vehicle speeds and climate. Drive with the pedal to the metal in the dead of winter, and no car or truck will be as efficient as the manufacturer suggests. Chevrolet also sells a Cruze with a diesel engine that boasts a 4.6 L/100 km rating on the highway and a 51.1-litre fuel tank, which results in a maximum range of 1111 km. Not many people will get that under normal driving conditions.
During our test, after a full charge, the 2017 Chevrolet Bolt EV never displayed its maximum range, since it's calculated based on previous trips, adjusting to our driving habits. However, we don't know how the car's previous drivers behaved, as this Bolt is handed from one automotive journalist to another every week. The best we saw was an indicated 284 km. Yet there's also a minimum and a maximum rating, which in this case were 230 and 335 km. It's safe to say that 300 kilometres in a fully charged Bolt is a realistic average.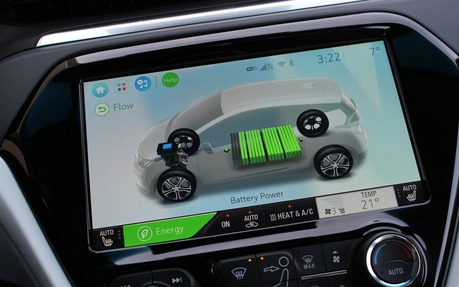 As usual, charge times can be programmed to take advantage of cheaper rates during certain times of the day, if that's the case in our neck of the woods. The charge limit can also be adjusted to 8 or 12 Amps, in case our electrical system can't handle a full-power recharge.
The Bolt EV boasts a modern design, but doesn't stick out too much in the compact-car segment like the first-generation Nissan LEAF did. Automakers have figured out that not every EV buyer wants their car to look like a space station escape pod.
The two-tone interior in our Premier trim test car looks very modern, while centre stack audio and climate controls are straightforward. Like many Chevrolet products, there are some rough plastics to be found here and there, but they don't spoil the overall design. Occupants sit high up, providing a good view of the outside world, but the front pillars are wide, which cut down some of that visibility.
The cockpit has the space of a compact car, which means three people sitting in the back seat will definitely rub shoulders, but at least the floor is flat so there's sufficient legroom for everyone. Behind the rear seatbacks, there's 479 litres of cargo space, which is more subcompact-car territory.
We end up with a car that's not quite as spacious and versatile as the Soul EV, the Ioniq and the e-Golf, but more than the current LEAF, the i3 and the Focus Electric.
The 2017 Chevrolet Bolt EV is equipped with an electric motor that develops 200 horsepower and 266 pound-feet of torque, sent to the front wheels. The car is pretty quick, and obviously feels a little livelier when the Sport mode is activated, although it doesn't handle as sharply as the e-Golf and the Focus.
There's a feature call Regen on Demand, activated with a steering wheel-mounted paddle. It allows the driver to increase energy regeneration, which also slows down the car. However, we prefer shifting the Bolt into Low, which increases regeneration all the time, which means we can perform one-pedal driving. In other words, by anticipating when we'll immobilise the car, we can stop without even touching the brake pedal.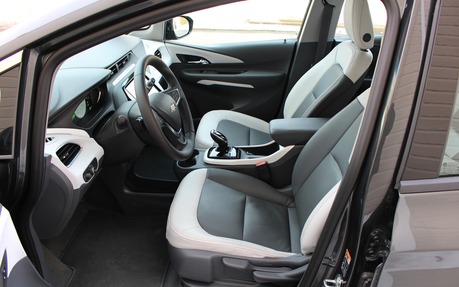 From a technological standpoint, the Bolt EV is available with the usual plethora of advanced safety systems such as lane departure warning and lane keep assist, blind spot monitoring, rear cross traffic alert, forward collision warning with pedestrian detection and a 360-degree camera system. There's also GM's Rear Vision Camera, which uses a rear-mounted camera that displays what's happening behind in the conventional rearview mirror. We'll need more time to get used to this gadget, as the camera's view doesn't feel natural. We can always revert back to the good old mirror, and that's what we did.
Pricing a 2017 Chevrolet Bolt EV requires a calculator, at least if we live in one of the provinces that offer green-vehicle incentives. The base LT trim starts at an MSRP of $43,095 before freight and delivery charges, while the better-equipped Premier is listed at $48,095. The incentives are $14,000 after taxes in Ontario, $8,000 after taxes in Quebec and $5,000 in British Columbia before taxes.
Just for fun, let's compare that to a conventional compact car that delivers a fuel consumption average of 7 L/100 km. If we drive 25,000 km a year, we'll save about $1,750 in fuel if it's priced at $1.20 a litre. That loaded compact car will cost between $25K and $30K, while the Bolt EV will cost about $35,000 in the best case scenario—that being in Ontario. And that's not factoring the cost of electricity at home to charge the EV. In short, it will take years to recuperate the extra investment.
The Bolt EV is proof that General Motors can make a great car when they put their heart into it. It's got the most range among the "affordable" electric-car field, but its main rivals cost thousands of dollars less and can still get most of us to work and back every day. Having a 383-km buffer is fantastic, as long as we can swing the higher monthly payments. However, that shouldn't be the only purchase criterion.
Test drive report
Test model

2017 Chevrolet Bolt EV

Trim level
Premier
Price range
$43,095 – $49,830
Price as tested
49 730 $
Warranty (basic)
3 years/60,000 km
Warranty (powertrain)
5 years/160,000 km
Fuel economy (city/highway/observed)
N/A
Options
Driver Confidence II package ($575), Infotainment package ($565), metallic paint ($495)
Competitive models
BMW i3, Nissan LEAF
Strong points

Great range (compared to its rivals)
Loaded with features
Modern looks and feel

Weak points

High price (compared to its rivals)
Seats lack support on long drives
Fat front pillars limit outward visibility

Editor's rating
Fuel economy
With a combined fuel economy equivalent rating of 2.0 Le/100 km, the Bolt's energy efficiency is average in its class.
Comfort
Comfortable ride, but seats lack support after an hour or so of driving.
Performance
With 200 horsepower on tap, the Bolt is surprisingly quick.
Infotainment
Fairly easy to use, although the button zones on the touchscreen are too small.
Driving
A nimble car, but not as fun to drive as a Ford Focus Electric or a Volkswagen e-Golf.
Overall
The EV of choice for those who drive long distances. However, that extra range comes at a price.