The 2019 Infiniti QX50 will Feature the New VC-Turbo Engine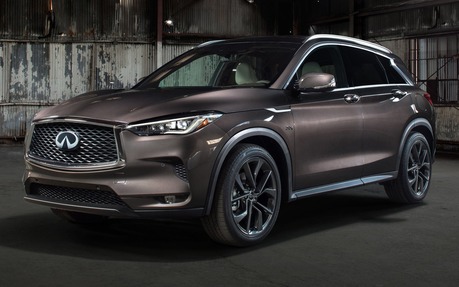 This week marks the beginning of the 2017 Los Angeles Auto Show. Like each year, many new products will be unveiled in the city of angels. With the automotive industry currently undergoing important changes, all-new powertrain technologies will be presented. For Infiniti, which will unveil an all-new QX50 crossover, gasoline engines still have many years ahead of them.
Variable Compression
At the moment, we don't know much about Infiniti's new compact crossover, which will ride on a new platform for 2019. But we will be at the vehicle's unveiling in L.A., so we'll be able to tell you more within the next couple of days.
Until then, Infiniti did confirm that the QX50 will inherit the carmaker's all-new and highly technological variable compression engine it calls VC-Turbo, the first of its kind. Infiniti claims its new 2.0-litre promises fuel economy numbers similar to those of a diesel. That's great, but how is this even possible?
You see, up to now, all gasoline engines came with a pre-set compression ratio that was calibrated at the factory. For instance, an engine with a higher compression ratio results in higher fuel economy, but has a negative impact on performance. Mazda's SKYACTIV engines are perfect examples of this; they're efficient, but not very powerful. Finding the perfect sweet spot has always been a challenge for carmakers. So what if it was possible to modify an engine's compression ratio on demand? Wouldn't you end up with the perfect gasoline propulsion system?
Infiniti believes so with VC-Turbo. Thanks to a multilink system, the engine continuously alters the pistons' travel in order to modify the engine's compression between an 8:1 (for performance) and a 14:1 (for fuel economy) ratio.
That sounds really cool on paper, but is this nothing more than a highly advanced technology that will hinder the engine's reliability? It's actually not as complex as one might believe. VC-Turbo strangely resembles variable valve timing which became very popular in the late 1990s, and Honda's VTEC system notably proved its reliability over the years. Today, all cars feature variable valve timing. The only difference here is that instead of modifying how the valves work, VC-Turbo modifies how the pistons operate.
Thanks to this fancy bit of tech, the 2019 Infiniti QX50's tiny turbo engine will pump out 268 horsepower and 268 lb.-ft. of torque, all while delivering a combined city/highway fuel economy of 9 L/100 km for all-wheel-drive versions, making it one of the most fuel-efficient luxury crossovers on the market.
We sure can't wait to see the new QX50 in person, as well as find out more about variable compression technology, which should make its way into other Nissan/Infiniti vehicles down the line. We'll provide more information as we get it.