The 2019 QX50: An Important Vehicle for Infiniti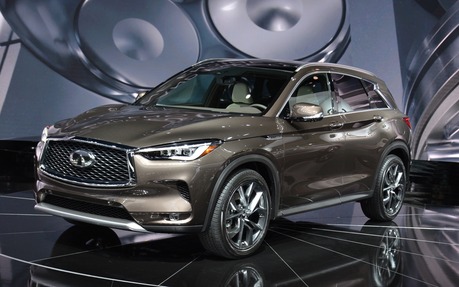 Infiniti unveiled its brand-new, midsized SUV just prior to the official opening of the Los Angeles Auto Show. For this luxury brand, the QX50 is a key vehicle in its lineup. The last generation was sporty enough, but it lacked the necessary cargo space, fuel economy and refinement to scoop up sales from the German manufacturers in its class.This new version could very well be a game-changer for Infiniti.
100% Infiniti
The big news is that the 2019 QX50 is a 100% Infiniti product and is all new from head to toe. I wanted to make that clear because its kid brother, the QX30, largely shares the same architecture as the Mercedes-Benz GLA. That is not the case for the QX50. The SUV has been completely redesigned and developed by Nissan/Infiniti engineers. The platform is entirely new, with a more rigid and longer body, giving the SUV a total cargo volume of 1823 litres when the rear bench is lowered—a significant improvement over the previous generation (1418 litres).
Inside, the cabin is totally redesigned and highly luxurious. The high-quality and contrasting materials are the first thing you notice when you step in. There is an option to get the dashboard covered with alcantara, a little like in exotic cars.
A revolutionary engine
Beyond the luxury, comfort and cargo capacity, for a manufacturer like Infiniti that is clearly undervalued in the luxury vehicle market to be able to stand out, it has to offer something unique. That's where the QX50 distinguishes itself from rivals like the BMW X3, the Audi Q5 and the Mercedes-Benz GLC. It has a brand new, revolutionary engine.
Infiniti calls it the VC-Turbo and, at least for now, it remains the only engine in the world that modifies its compression ratio in real time. This is a feature that has never before been offered by an automaker until now. It has the advantage of considerably reducing fuel consumption without affecting performance.Moreover, the 2019 Infiniti QX50's 2.0-litre four-cylinder turbo churns out 268 horsepower and 280 lb.-ft. of torque. These figures currently fall in line with the competition, but Infiniti promises a combined city/highway fuel consumption of 9.0 L/100 km for its all-wheel drive models. Now that's what we call engineering!
All we know right now is that the vehicle will be equipped with a continuously variable automatic transmission and the very latest ProPILOT Assist semi-autonomous driving technology. We can't wait to take it out ourselves when it arrives. When that happens, we'll get fully acquainted with this brand-new SUV that is a key model in this Japanese manufacturer's lineup.