Volvo's Not Back, it's Ahead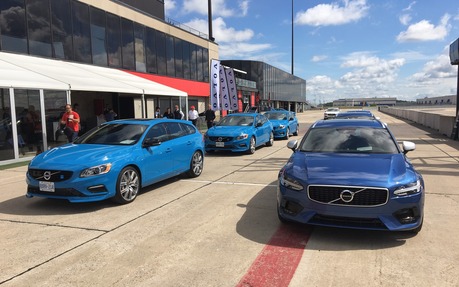 The last near two decades for Sweden's sole-surviving, mass-production car manufacturer have been tumultuous, to say the least. From Ford's failed attempt at building a luxury brand consortium called the Premier Automotive Group in the late 90s, which Volvo was part of, to being sold to Chinese Geely Holding Group in 2010, Volvo went from good to not so good. However, the last eight years have all but erased the previous decade.
The brand's transformation, some would say resurgence, has been a product-led one. Volvo hasn't tried to mislead discerning luxury-car buyers with dressed-up old material, as some OEMs very much like to do. No, Volvo's done what it does best, thanks to Geely, and that's to be itself.
The resulting lineup of products is their best, most complete and enticing ever. You don't have to take my word for it, check the numbers. In 2016, sales grew 27.5% year-over-year. So far in 2017, the numbers are up 13.5%. And despite a slowing trend in new car sales, Volvo's numbers should remain positive going forward.
Their plans for the near future are nothing short of bold. They announced earlier this year that they will begin the electrification of their entire product line within the next two years. And although they've never had a broader selection of cars and utility vehicles for their customers, more new products are coming. Better still, the next generation of some of their most beloved cars will be more Volvo than ever.
Next year will mark the opening of Volvo's new South Carolina plant, in Ridgeville. A new as-of-yet undisclosed product (next-generation XC90 is a strong possibility) will be assembled there alongside the next-generation S60. The next V60 station wagon is said to sport a larger, more Volvo-like trunk which should please the big boot lovers that moved away from Volvo because of the previous and current cars' smaller trunks.
The arrival of the new 2019 Volvo XC40, based on the company's highly versatile Compact Modular Architecture, is the next chapter in what has become the busiest year at Volvo ever. 2017 has brought with it an S90 refresh, a new V90, V90 XC and XC60 and the show will go on.
For far too long, Volvo's been an underdog. They lost market share to the Germans, but that could very well change in the next few years. If anything, the 143 Canadian pre-sales (41% originate from Quebec) for the new XC40 demonstrate confidence and interest in the brand.
Volvo will also punch its way further into the luxury and service aspects with its new Care by Volvo premium subscription plan. In a few words, all you'll have to do is make monthly payments to have access to a car and not worry about anything else.
Volvo's truly upped its game and there are no signs that they will be slowing down anytime soon. Volvo's clearly ahead of where it left off some twenty years ago.