2018 Subaru BRZ tS: Better, Faster and More Exclusive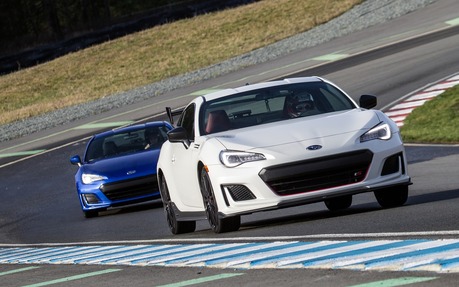 DUNCAN, British Columbia – Let's settle this right off the bat. The Subaru BRZ tS' engine isn't more powerful than the one that has equipped the BRZ since it was first introduced in 2013. It's the same 2.0-litre flat-four that has to reach 7000 rpm to deliver 205 horsepower and produces 156 lb.-ft. of torque at 6400 rpm. This engine joyfully revs at high speeds, but would greatly benefit from an injection of torque at all speeds.
And yet, none of this matters. After all, this is not the key idea behind the BRZ tS, of which Subaru is only offering 100 units for all of Canada in 2018. Since 2005, the tS has only been available for Japanese buyers. These initials stand for "tuned by STI" which, in turn, stands for "Subaru Tecnica International," the manufacturer's racing division, whose work we know mainly because of the most potent version of the WRX series.
Everything but the badge
The tS is a true STI version and only the second to be offered in Canada. Sure, it doesn't have the STI badge, but that's because the tS version aims to offer sharper handling and a more pleasant ride without sacrificing quality and comfort. Perhaps a gain in pure performance will come later on a different version—one bearing the STI logo. We'll see.
In the meantime, the Subaru BRZ tS is stunning, with wider 18-inch black alloy rims (the first of this size for the BRZ), a front spoiler and black blades that run along the bottom of the body. Most importantly, there's a large carbon-fibre rear spoiler that can be set in two positions. This accessory suits it very well and blends in nicely. Tack on a few other details, such as logos and discrete red mouldings, and this tS coupe is a real knockout.
The same goes for the interior. Red STI gauges, stitching, start button and seat belts underscore the vehicle's special nature, along with red leather padding for the ever-excellent seats. The effect is impressive.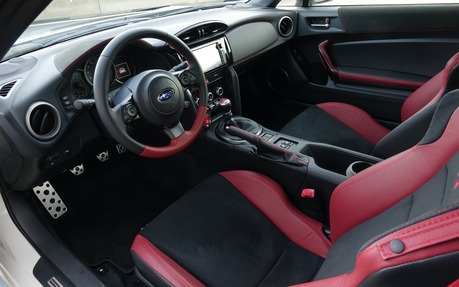 Invisible and important
That's not all, obviously. To hone the handling and ride, STI engineers and other wizards added Sachs dampers paired with springs that are 9% firmer in front and 6% firmer in back. Next, they installed flexible V-bars to reinforce the suspension turrets and front end while simultaneously sharpening the steering. All this without impacting road comfort. They finished the job by installing bigger Brembo brakes and Michelin Pilot Sport 4 tires for better grip.
All these changes were planned and perfected with the same care that BMW's M division and Mercedes-Benz's AMG group put into their performance versions. I can say that with confidence because I was able to verify it in the best way possible: by comparing the tS to the regular BRZ on an autocross track and then the 19 corners—all different—at the brand new Vancouver Island Motorsport Circuit.
Take it from me, the 2018 Subaru BRZ tS lived up to its promise in both cases. That doesn't mean the standard BRZ isn't fun to drive; in fact, it's very well balanced. It's just that it tends to roll into corners and it doesn't offer the same grip, plus the steering doesn't really have the same liveliness or finesse. Its brakes have neither the same bite nor the same stamina, though they won't leave you in a lurch, even after several laps all-out.
Better and faster
The tS coupe is simply more efficient, more precise and more stable. It's also faster. Everywhere. All the time. For example, after taking the BRZ through the long 180-degree corner at the autocross circuit in a lengthy, enjoyable drift requiring serious countersteer, I was able to do the same thing in the tS, this time pushing harder and countersteering less, because it has more grip and less roll. You really have to work hard to make the car fishtail. But it's also much faster, which requires the driver's undivided attention.
The thrill is simply more intense, more complete and a lot longer on the circuit. In the tS coupe, I had tons of fun chasing an instructor who was driving a 268-horsepower WRX. Then driving a base blue BRZ, I tried to follow a colleague in the same white coupe, and again, the tS proved to be more precise, more efficient and faster. Everywhere. Without exception.
You know what's the best part? Subaru Canada is offering the tS coupe for $37,395, despite the fact that it's a very special and limited edition of the BRZ. Try to wrap your head around that; the carbon fibre spoiler alone would cost you about $2,000. Add the 18-inch wheels, Michelin tires, Sachs suspension, flexible struts and all the rest.
All these features would cost much more than the extra $5,000 it costs compared to the BRZ Inazuma that was offered in limited quantity last year. For this price, you get a singular coupe whose every component was meticulously chosen and integrated by STI. Right out of the box, it's a more dynamic, interesting and attractive coupe than its sibling (though I must say that I really enjoyed them both).
If I were in the market for a comfortable, balanced and refined sports car that rises to the occasion on the circuit, I would be really tempted. And yet, I still hope that Subaru and STI will come out with a BRZ equipped with a 2.2-litre version of the naturally aspirated engine for about 240 horsepower and more torque at all speeds. That's what Honda did years ago with the S2000. Santa, are you listening?
Test drive report
Test model

2018 Subaru BRZ

Trim level
tS
Price range
N/A
Price as tested
CA$37,395
Warranty (basic)
3 years/60,000 km
Warranty (powertrain)
5 years/100,000 km
Fuel economy (city/highway/observed)
N/A
Options
aucune
Competitive models
Chevrolet Camaro, Ford Mustang, Mazda MX-5, Nissan 370Z, Toyota 86
Strong points

Sharper and more stable handling
More at ease, faster and more endurance on the track
Excellent value of the additions
A real looker, even in white
Driving ergonomics and jazzier cabin

Weak points

Offered in very limited quantity
We want a more powerful engine
Fake vents on the front fenders
Light flywheel = delicate clutches

Editor's rating
Fuel economy
Fuel consumption is excellent in everyday situations and very reasonable when driven with more intensity.
Comfort
The seats are nicely sculpted and offer an excellent combination of comfort and support, even on a circuit. And the suspension is not too firm for a sport coupe.
Performance
Our wish list includes more power and torque, especially in mid-range, with a high-revving naturally aspirated engine.
Infotainment
The new screen is both larger and clearer, with a more comprehensive list of functions and applications, including Apple CarPlay and Android Auto.
Driving
The tS coupe offers rare agility, finesse and balance. In fact, we wonder what it could accomplish with more muscle under the hood.
Overall
An excellent version of the BRZ, meticulously developed by the STI division and offered at a more-than-reasonable price considering the overall quality.