2018 Infiniti QX80: Sweetening the Deal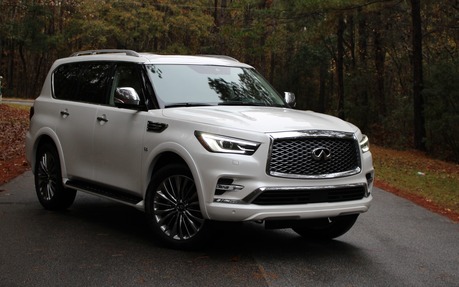 CHARLESTON, South Carolina – When a manufacturer invites a bunch of journalists to a press event in order to drive one of its vehicles, there's usually a lot to talk about. The car or truck is redesigned from the ground up or at least boasts new sheetmetal, new powertrains and new technology. In some cases, the vehicle could have received some minor changes here and there, but is quoted as being "all new."
One such example is the 2018 Infiniti QX80. Once we get past the redesigned front fascia, we quickly realise that from a design standpoint—inside and out—this year's edition hasn't changed much. Still, true all-new models only arrive once in a blue moon in the full-size luxury SUV segment, so subtle changes might be enough to gain some market share. A segment that includes the Lincoln Navigator, the Lexus LX, the Cadillac Escalade and the Mercedes-Benz GLS.
The QX80 has been around in its current form since the 2011 model year. At the time, it was called the QX56, but got rebadged for 2014 when all of the brand's vehicles were hierarchically renamed while embracing the letter Q.
So its overall design is still the same, but the QX80 received a new front-end treatment with reshaped grille and now-standard, adaptive LED headlights. The big SUV now looks more like the brand's other products and less like a somnolent sumo wrestler. That's our opinion of course, but we never met anyone who actually found the previous QX80's face attractive.
There are some other exterior changes, such as more chrome trim all around, new-design 20- and 22-inch alloy wheels as well as a new Champagne Quartz paint colour that replaces last year's Dakar Bronze. Since we're on the subject, Infiniti pointed out that the QX80 boasts the highest quality paint job of its product portfolio, which is inspected and hand-polished as needed.
The cockpit receives higher-quality materials with quilted leather on the doors and seats, piping and wood trim. The upholstery is said to be stain-resistant, which means denim jeans aren't supposed to leave their mark on the cowhide. There are three interior colour combinations, including the new Saddle Brown hue. A panoramic sunroof would've been nice, but it'll have to wait until the SUV gets a ground-up redesign.
The infotainment system has been upgraded to the brand's InTouch interface, although the touchscreen remains a little small at 8.0 inches in diameter. Each keyfob memorises the driver's seat, mirror and steering wheel positions as well as climate control and navigation presets. Now available, and a new feature for Infiniti, is the Smart rearview mirror, which uses a backlight-mounted camera to display what's happening behind the vehicle in the inside mirror. It's handy when backing out of a parking space in a crowded lot, or when rear passengers' heads are blocking the view of the conventional mirror. It takes some getting used to.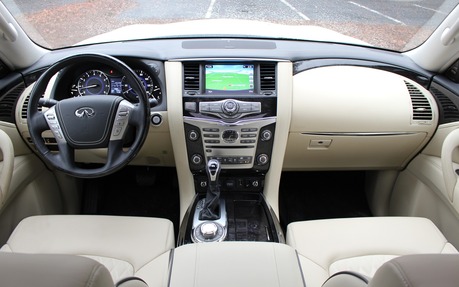 Rear-seat passengers get treated to a new entertainment system—standard in every QX80—that includes dual higher-resolution, eight-inch screens (up one inch in diameter) and three more USB ports so everyone can keep their portable devices fully charged.
Infiniti claims improved sound insulation, which is hard to validate without driving a 2017 model and a 2018 back-to-back on the same roads. At slow speeds, there's a faint driveline drone that seems to disappear once we reach a higher velocity, but otherwise, the QX80's cabin is indeed quiet.
The 2018 Infiniti QX80's powertrain is unchanged. The 5.6-litre V8 still develops 400 horsepower and 413 pound-feet of torque, managed by a seven-speed automatic transmission which sends all that muscle through a four-wheel drive system. A little more power than in the Lexus, a little less than in the 420-hp Cadillac and the 450-hp Lincoln. The Benz can play with as much as 577 hp in AMG trim, but at the QX80's price point, we're rather talking about the 362-hp, GLS 450.
We love the brawn and the sound of a V8, and the QX80's engine delivers in both regards. However, fuel consumption is still pretty high, with city/highway ratings of 17.4/12.2 L/100 km. All its rivals except the Lexus can do better.
As before, the QX80 is available with what the brand calls Hydraulic Body Motion Control, which adjusts the suspension when the SUV leans in corners to reduce body roll. It works, but there's only so much a suspension can do to keep a 5900-lb, high-riding truck from leaning through a curve. The four-wheel drive system is rear-biased in Auto mode, and can send up to 50 percent of engine power to the front wheels when slippage occurs.
There's also a low range for off-roading, but who's actually going to hit the trails in such a massive—and expensive—SUV? It's good for bragging rights, but not really useful for the everyday grind. The transmission also includes a tow mode, which helps the QX80 pull up to 8500 pounds (3856 kg). That's a class-leading rating, albeit by a small margin in some cases.
Pricing for the 2018 Infiniti QX80 has not yet been set for the Canadian market. However, we're expecting it to be within a few hundred bucks of the 2017 edition's $75,650 MSRP before freight and delivery charges. Once again, seven- and eight-passenger versions will be available, as well as a Technology Package that adds the usual advanced safety features such as adaptive cruise control, blind spot warning and intervention, lane departure warning and prevention in addition to 22-inch wheels and the aforementioned Hydraulic Body Motion system and Smart rearview mirror. This package should cost about $8,500.
The QX80 may not have changed all that much, but the good news is that it costs less than its competitors. The short-wheelbase Escalade and Navigator as well as the GLS 450 start at about $10K more, while the LX 570 is listed at $109K. The slightly smaller, $74K Lexus GX 470 is closer to the QX80 from a price standpoint, but gives up power, interior room and towing capacity.
End of the day, the Infiniti is a comfortable, spacious and capable full-size rig that gets small improvements in the right places, and boasts a good reputation for reliability—it's now built in Japan, too. It's far from being "all-new" and may not shake things up in the large luxury SUV segment, but to keep selling at the current pace, these improvements may be enough for now.
Test drive report
Test model

2018 Infiniti QX80

Trim level
5.6 (7 Pass.)
Price range
$75,650
Price as tested
75 650 $
Warranty (basic)
4 years/100,000 km
Warranty (powertrain)
6 years/110,000 km
Fuel economy (city/highway/observed)
17,4 / 12,2 / 13,1 L/100km
Options
N/A
Competitive models
Cadillac Escalade, Lexus GX, Lexus LX, Lincoln Navigator, Mercedes-Benz GLS
Strong points

Muscular and throaty V8
Excellent towing capacity
Aggressive price

Weak points

Infotainment system screen could be bigger
Heavy fuel consumption
No panoramic sunroof

Editor's rating
Fuel economy
Not that good, even for a big SUV.
Comfort
Great ride, comfortable seats, room for everyone.
Performance
Plenty of guts to go faster than we should in a 5900-lb truck.
Infotainment
Not the slickest system out there, and the touchscreen is a little small.
Driving
Handles surprisingly well for its size and weight.
Overall
Some rivals might be quicker or more efficient, but the QX80 redeems itself with a competitive price and a great towing capacity.