Infiniti Teases New Concept Car Before Detroit Reveal Next Month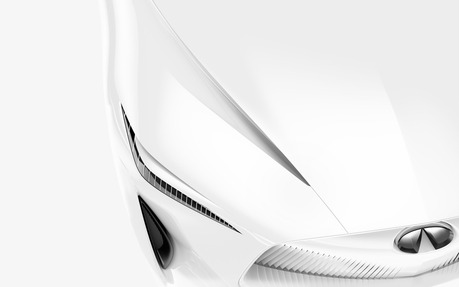 Infiniti has released a teaser image of a new concept car that will be released at next month's North American International Auto Show in Detroit.
According to the manufacturer, the concept previews a new generation of Infiniti vehicles and represents the first manifestation of a new design language from the brand.
"As a new wave of technologies begin to take shape, our Detroit concept car heralds a new generation of Infiniti. A seamless and stunning new design philosophy demonstrating Infiniti artistry in the new age of autonomy and breakthrough drivetrains. In Detroit, shown alongside Prototype 9, Infiniti aims to showcase a new elegance, one that strikes harmony and simplicity in a complex world," said Alfonso Albaisa, Senior VP for Global Design.
The press release goes on to suggest the concept will be a sedan and will yield more balanced proportions and a muscular stance.
Aside from the Prototype 9 open-wheeled electric retro roadster prototype we saw at the 2017 Pebble Beach Concours d'Elegance, the last concepts revealed by the brand were back in April with the QX50 Concept in Shanghai and the QX80 Monograph Concept in New York. Both have since evolved into the Infiniti lineup as full production models.
The Car Guide will be on hand for the reveal that is scheduled to take place Monday, January 15 at 12:35 p.m., so stay tuned for updates.