2017 Lincoln Continental: That's More Like It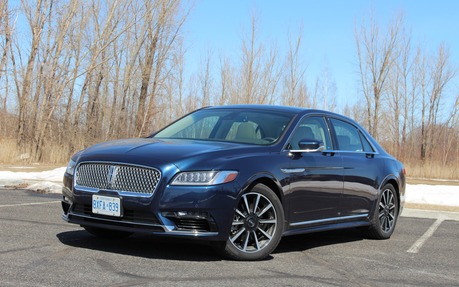 Few car brands have struggled to find an identity like Lincoln has in the past ten years. With models such as the Town Car, the Mark VII and Mark VIII as well as the Continental, Lincoln's clientele through the '90s was present and accounted for, but was aging, and the company had to come up with a new strategy in order to attract younger buyers.
The Lincoln LS sedan was a good effort, offering something more dynamic, while the Navigator simply followed the market trend and was adopted by well-heeled professional athletes and rap music stars—an atypical type of customer for the brand. However, in the last few years, Lincoln changed head designers a few times and added more mass-market products like the MKZ and MKC, with modest results.
Lincoln needed a home run. Or at least, a double or a triple. That hit may be the new Continental.
Turning its back on the three-letter nameplate strategy, Lincoln has reintroduced the Continental after a 15-year hiatus, during which the MKZ took over as the midsize sedan offering. This new generation replaces the MKS as the full-size flagship sedan.
Why is this new model significant? Because the Continental blurs the line between dynamic luxury cars and luxoyachts destined for the retired crowd. Its design clearly defines it as a Lincoln, especially now-signature front-end styling that will appear on all of the brand's models within the next year. That includes the redesigned 2018 Lincoln Navigator, the refreshed 2019 Lincoln MKC and the 2019 Lincoln Nautilus. Oh wait—the MKT will soldier on unchanged like an unloved child.
Anyways, the Continental is equipped with a twin-turbo, 2.7-litre V6 engine that develops 335 horsepower and 380 pound-feet of torque, connected to a six-speed automatic and mandatory all-wheel drive. Performance-wise, the big Lincoln is no slouch, but if we upgrade from the Select trim level to the Reserve, we can get a twin-turbo, 3.0-litre engine that belts out 400 hp and 400 lb.-ft.
With the bigger engine, the 2017 Lincoln Continental is really fast, but not violent. That's okay, as the powertrain is well suited to the car's relaxed character. Fuel economy is rated at a not-too-impressive 14.4 L/100 km in the city and 9.7 on the highway; we managed an average of 11.0 L/100 km. At least both engines can run on regular gasoline—although output ratings were achieved using 93-octane fuel.
On the road, the Continental behaves well for a non-sporty luxury sedan. The adjustable suspension, or what Lincoln calls Continuously Controlled Damping (CCD), offers three settings. Comfort mode is way too spongy, to the point of getting seasick—even on the highway. Sport mode firms things up for tackling some twisty roads—which very few buyers will probably want to do—with mixed results. Normal mode is the best compromise, making the Continental just tight enough on most types of roads, but without feeling like we're driving Uncle Buck's 1975 Mercury Marquis.
The Continental scores big in regards to comfort and ride quality. Ten-way power-adjustable front seats are standard, while 24-way seats are included in the Reserve trim. However, on the options list are seats that offer no less than 30 power adjustments. They're absolutely terrific—that is, once you spend 20 minutes finding the perfect settings. Don't forget to save it with the position memory feature.
The Reserve also includes heated and cooled front seats as well as heated rear seats, a heated steering wheel and three-zone climate control. The optional Revel Ultima surround sound system features 19 speakers and is simply phenomenal. And as always, the SYNC 3 infotainment system is easy to use and not too distracting, which includes an eight-inch touchscreen, navigation as well as Apple CarPlay and Android Auto integration.
A power panoramic sunroof and a battalion of advanced safety driving aids are available as well. Our test car wasn't equipped with it, but a rear-seat package can also be added with adjustable and cooled rear seats and a fold-down centre armrest that incorporates audio and climate controls. For those who like to be chauffeured.
The 2017 Lincoln Continental starts at $57,400 before freight and delivery charges, which isn't bad at all, considering a Lexus GS goes for $63K and up, a Cadillac XTS with all-wheel drive is listed from $56K and a Volvo S90 T6 AWD starts at $58K.
Our Reserve variant costs $60,900, but with the 3.0-litre engine, the sound system upgrade, the dual-panel sunroof and the Technology Package, the total invoice climbs to an eyebrow-raising $76,350. We'd keep costs down by sacrificing some nice-to-have features and take a Reserve trim with the $750 30-way power seat package.
The Continental has a lot going for it. It's supremely quiet and comfortable, interior fit and finish is impressive, and it's relaxing to drive without being boring. For those who don't want or need the sportiness of an Audi, a BMW or a Mercedes-Benz, and want to be seen in something different, this is the best luxury car Ford has developed in quite a while. It may not be a home run, but it can definitely help the brand put some points on the scoreboard. The only question now is: do you see yourself driving a Lincoln?
Test drive report
Test model

2017 Lincoln Continental

Trim level
3.0 AWD
Price range
$57,400 – $80,750
Price as tested
76 350 $
Warranty (basic)
4 years/80,000 km
Warranty (powertrain)
6 years/110,000 km
Fuel economy (city/highway/observed)
14,4 / 9,7 / 11,0 L/100km
Options
Luxury Package ($5,500), Technology Package ($4,000), 3.0L engine ($3,000), panoramic sunroof ($2,200), Perfect Position 30-way seat ($750)
Competitive models
Acura RLX, Buick LaCrosse, Cadillac XTS, Infiniti Q70, Lexus GS, Volvo S90
Strong points

Superb 30-way adjustable front seats
Quiet cabin and refined ride
Powerful engines

Weak points

Expensive options
Unimpressive fuel economy
Lacks the prestige of a Mercedes-Benz or an Audi

Editor's rating
Fuel economy
Could be better, but runs on regular gasoline, so that's a plus.
Comfort
Excellent ride, and the optional seats are a must-have.
Performance
The optional 3.0-litre engine makes the Continental very fast. But it's a costly option.
Infotainment
A great system with plenty of features.
Driving
Strikes a fine balance between a spongy luxury car and a sports sedan.
Overall
The best new Lincoln in years.