The Autonomous Vehicle According to Toyota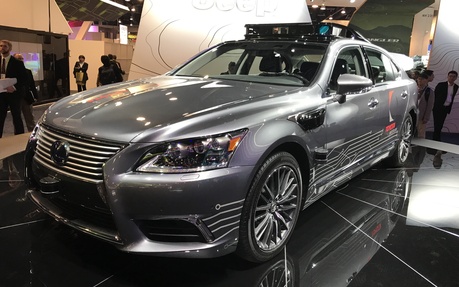 After the Platform 2.0 concept and its 2.1 evolution, Toyota has unveiled their Platform 3.0 at the Consumer Electronics Show in Las Vegas.
Actually, it's the Lexus LS 600h L's platform, but improved upon by the Toyota Research Institute (TRI). With Platform 3.0, Toyota wants to make its mark in the autonomous vehicle industry, simply and elegantly integrate detection elements and—last but not least—develop autonomous vehicle technology to be easy to reproduce on production vehicles.
Horizontal LiDAR Instead of Vertical
Platform 3.0 benefits from the latest technological advancements available for autonomous vehicles. For example, the LiDAR system on Toyota test vehicles would only work when the vehicle was in motion, but now provide a 360-degree range of 200 metres, even if the vehicle is at a standstill. Four high-definition LiDAR sensors can detect darker objects. Also, four short-range LiDAR sensors are placed low on the four corners of the vehicle and are capable of detecting children or debris on the road.
The CALTY design studio in Michigan as well as Toyota North America research and development centre engineers worked together to miniaturise and conceal sensors and cameras as best as possible. So, instead of presenting traditional LiDAR (spinning cylinders on the roof of the vehicle), Platform 3.0 rather boasts a slim band that looks more like a streamlined light bar, as seen on police cruisers. Even the architecture of the vehicle was reworked in order to place all automated components as to take up the least amount of space as possible.
Concept will Become Prototype
The first prototypes of Platform 3.0 will be built this spring at Toyota's Michigan R&D centre, based on Lexus LS production cars. Two types of prototypes (sounds weird, we know) will be built. The first will have two seats and will be called "Guardian." It will serve to test efficient ways of transferring control of the vehicle from the autonomous system to the driver, and vice-versa. The "Chauffeur" prototype will only have one seat and will be equipped with a fully autonomous system.