Nissan ePedal: The Joystick Driving Your Car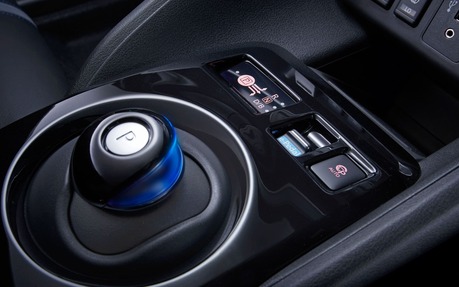 Would you drive a car controlled only by a joystick? What has so far been a fantasy embodied by concept cars could very well become a reality, judging by the new technologies in vehicles like the 2018 Nissan LEAF.
The ePedal system found in the second-generation LEAF wants you to forget that beside what we used to call the gas pedal lies another, equally important pedal: the one for the brakes. Using kinetic regeneration, the EV equivalent of engine compression and some electronic intervention, Nissan has managed to turn into a feature one of the main characteristics of modern electric-powered vehicles: to slow down and even come to a complete stop, all you need is to modulate the pressure applied on the accelerator.
The LEAF is the most recent, if not the best example of that feature, but it is not the only one. The BMW i3 and the Chevrolet Bolt EV both exploit that characteristic to their advantage. GM Canada recently held an event for drivers interested in testing that one-pedal driving technique, while BMW touts the added torque during acceleration, and its opposite effect during deceleration.
One step closer to autonomous cars
What the ePedal system reminds us of, is the fact that it could soon be possible to pilot a car using a simple joystick, one-handedly directing the different electronic systems at once. It could be a step toward the steering wheel-free, pedal-less self-driving vehicle, aka Level 5 autonomous driving.
If the phone has evolved from a rotary dial to a touchscreen interface, there's no reason why a car couldn't move from that hands-and-feet setup to a simpler, nimbler, jetfighter-inspired controller.
In 1996, Mercedes-Benz suggested as much by introducing the F200 concept vehicle, which had a central controller lodged in its console, with which you could steer, and speed up or down. Five years later at the Tokyo Auto Show, Honda unveiled the AC-X concept car, projecting what the average car would look like in… 2017.
More recently, Infiniti, Nissan's premium brand, launched the Q50 sedan with an all-electronic steering technology, called drive-by-wire in the aviation industry. That could be another step in the same direction, especially if Nissan's plan is to market Infiniti as an all-electric brand, competing head-to-head with the tech-heavy Tesla company…
We can also imagine how the ePedal system could evolve, in the years to come, into an assisted driving interface where the driver would only need to specify at which speed the car need to go, in order to get to destination at the proper time. A joystick-like controller would do well in that context.
Unless voice commands end up controlling everything in the vehicle…
The problem with having two pedals…
One thing is sure, however: Nissan wants to solve an important, albeit misunderstood problem associated with traditional car pedals. "There is a pedal misapplication problem causing accidents which could be easily avoided using the right tools," explains Takehisa Makiyama, head of new products development at Nissan Motor Corp. "In an emergency, people will press the wrong pedal, and speed up instead of braking to avoid a collision."
Combining sensors, artificial intelligence and a better user experience could be the key, Makiyama-san believes. "The goal is to design products that will give users the best experience there is."
Nissan plans to have its first driverless car on the roads by 2022. We don't know if it will come equipped with something resembling a joystick, but it will definitely inherit the technology introduced by the 2018 LEAF and the ePedal system.
In other words, we might not see a real, physical jetfighter-like controller in an automobile anytime soon (if ever), but it will still be there—in spirit, at least.