2018 Lincoln Navigator: No Limits!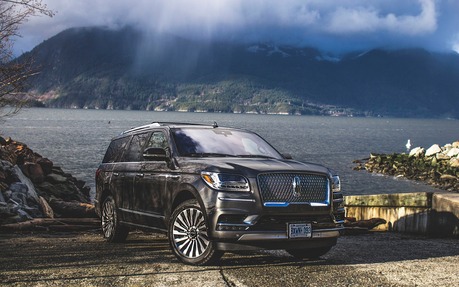 WHISTLER, British-Columbia – There exist different types of vehicles for different types of needs. If you're looking for ultimate comfort and luxury, buy a luxury sedan. If you need a workhorse, buy a pickup truck. But what do you do when you don't want to limit yourself to only one kind of vehicle? How do you combine all your needs into one car or truck? You buy a 2018 Lincoln Navigator.
When You're Addicted to Bling
The Navigator is a fascinating vehicle. It's dominating, opulent, very flashy and far from affordable. It belongs in the exclusive full-size luxury segment, a category of vehicles shared with competitors such as the Cadillac Escalade and the Infiniti QX80. And with the existence of the Ford Expedition, its mechanical cousin which sells at a more affordable price tag, it's easy to wonder why the Lincoln even exists. I could sum up my first drive of the behemoth on British Columbia's magnificent roads as follows: buy it if you can afford it, but know that there are less-expensive alternatives.
On paper, it's in fact hard to distinguish the differences between the Lincoln and the Ford. Both use aluminum to wrap their bodies. Each ride on a shared platform with a pickup truck, and each is powered by the same 3.5-litre, twin-turbo V6. Towing capacity, a feature that allows these vehicles to set themselves apart from the Honda Pilots and Nissan Pathfinders of our world thanks to their ladder-frame construction, is also identical at 8300 lbs. (3764 kg). So, why pay almost $100,000 for the Navigator?
The answer is rather simple: more. More power, more comfort, more luxury and better cabin insulation. And that "more" is huge, because once you get behind the wheel of this thing, you notice where your money went. The engine, while the same as its cousin's, pumps out 450 horsepower and an impressive 510 lb.-ft. of torque, 50 hp and 30 lb.-ft. more than the Ford. Its suspension comes standard with adjustable dampers, something that's optional on the Expedition. But the largest distinction is the Navi's interior. You have no idea how luxurious this truck is. The term "baller" fits it like a glove.
A Yacht on Wheels
The people at Lincoln speak of a cabin that was largely inspired from yacht and private jet builders. The wood found on the centre console was cut out of a single piece in order to ensure continuity in the groove. This big guy is a living room on wheels and its massaging seats should help remove that extra layer of stress before your next business meeting.
Inside, the smell of leather and wood is very present, and the chrome accents and leather stitching are easy to spot. More importantly, there is absolutely nothing in this vehicle that resembles the interior of a Ford. Even the SYNC 3 infotainment system gets its own bespoke interface, except this time it sits in a gargantuan LCD screen that proudly erects from the centre of the dashboard.
My tester was fitted with the captain chairs in the second row, which added a centre console allowing for music and climate control settings. Passengers also get not one, but two LCD screens to connect external devices such as a laptop or a video game console. If more passenger space is what you need, Lincoln will give you a third second-row seat at no extra cost. With such a high price tag, I certainly hope you're entitled to a little gift!
On BC's Sea to Sky Highway, along the Pacific ocean between Vancouver and Whistler, the Navigator proved to be surprisingly agile and quiet, even more so than its cousin. Granted, this is a large and heavy truck, even with its aluminium construction (2763 kg for long-wheelbase versions, 2686 kg for the short-wheelbase variety), but the independent suspension allows it to remain refined, providing better control to the driver in tight bends. The V6 is smooth, providing ample low-end torque all while emitting a satisfying growl, and the ten-speed automatic gearbox, which was taken straight out of the Expedition, is flawless.
Actually, driving the Navigator confirmed my theory about this transmission: it responds much better to torquier engines. In the EcoBoost Mustang, the powertrain was laggy. In the Expedition, it was better, but still dumb-witted. Here, it responds when you ask it to, finds the right gear, and holds on to it. With 510 lb.-ft. of torque on tap, there's just no need to downshift continually.
King of the Hill
To sum it up, the 2018 Lincoln Navigator is a very well-executed product, but it's not perfect. The people at Lincoln brag about the fact that their full-sizer is fitted with the latest semi-autonomous safety technology, but none of them come standard. At this price range, that's making fun of consumers, especially considering you can get these toys in a $25,000 Kia. Fuel economy, while better than with the previous V8 in the old Navigator, still needs improvement. We had trouble staying under the 15 L/100 km mark. And those LCD rear-seat screens are a neat touch, but they can't be moved nor stowed away.
So there, Lincoln's all-new and immensely comfortable gargantuan machine is tapered in bling. The Navigator may seem irrelevant to the eyes of environmentalists, but for those who actually need it, it will sell, and it's without question the most lucrative vehicle sold by the Ford Motor Company. Now more prestigious than ever, Dearborn's cottage on wheels can finally dominate its rivals.
Test drive report
Test model

2018 Lincoln Navigator

Trim level
Reserve L 4x4
Price range
$87,500 – $93,500
Price as tested
CA$93,500
Warranty (basic)
4 years/80,000 km
Warranty (powertrain)
6 years/110,000 km
Fuel economy (city/highway/observed)
14.9 / 11.3 / 15.3 L/100km
Options
N/A
Competitive models
Cadillac Escalade, Infiniti QX80, Lexus GX, Lexus LX, Mercedes-Benz G-Class, Mercedes-Benz GLS
Strong points

Undeniable presence
The interior of a yacht
High towing capacity

Weak points

Poor fuel economy
Advanced safety technology doesn't come standard
Expensive

Editor's rating
Fuel economy
We had difficulty staying under the 15 L/100 km mark.
Comfort
Massaging front seats, comfortable rear seats, quiet and spacious cabin.
Performance
The V6 is smooth, pulls hard and the automatic gearbox is well calibrated.
Infotainment
Well presented, simple, easy to understand and quick to react.
Driving
A surprisingly sophisticated and compliant ride, handling is impressive for its size and weight.
Overall
The Navigator has never been this refined or luxurious. It may be in a niche segment, but its consumers will appreciate its immensely comfortable cabin.