2019 Hyundai
Santa Fe

Images Revealed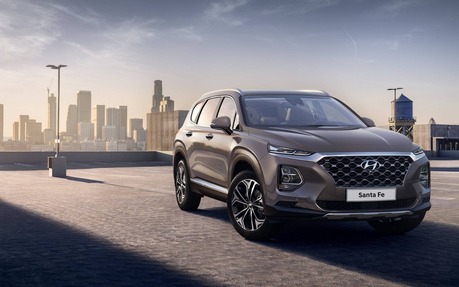 Press images of the new 2019 Hyundai Santa Fe have surfaced online and it looks like Hyundai is making a bold move with the styling of its popular SUV.
The large front grille and square lower lights are reminiscent of the new Hyundai Kona. The headlights are higher up and have been transformed into very slim appendages of the grille trim. Large overbearing wheel arches complete the rugged look, which should do well in setting the Santa Fe apart from the competition. Unfortunately, no rear image is available at this time. The vehicle will be both longer and wider than its predecessor.
The other image we have is of the interior cabin, which has also been completely redesigned. The large infotainment display screen has been raised for better, safer viewing and the tachometer readout now appears to be digital. The console has also undergone a complete revamp and modernisation.
No details are available on the powertrain as of yet, but a slew of safety features is reported to be available on the new Santa Fe, including rear cross traffic collision avoidance and safety exit assist, where the vehicle will lock the doors to prevent you from stepping out into rear-approaching traffic.
Hyundai should officially reveal the Santa Fe later this month and then in person at the New York Auto Show at the beginning of April.