2019 Lamborghini Urus Preview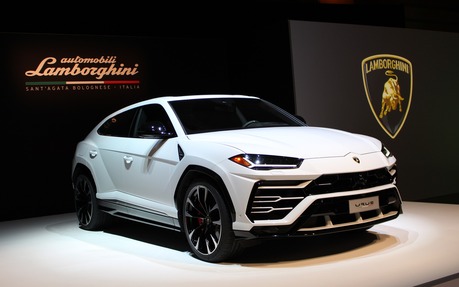 TORONTO, Canada – It's only a matter of time before every automaker—even the high-end luxury brands—sells a sport-utility vehicle. At the moment, it's Italian sports-car builder Lamborghini's turn to unveil their take on the family-oriented, high-performance SUV, and it's called Urus.
It was officially unveiled in December, and it just made its first appearance in Canada during a private event at the Design Exchange museum in Toronto, where customers, dealer representatives and members of the media gathered to see the new super SUV in the flesh.
Let's waste no time spitting out the all-important performance numbers. The 2019 Lamborghini Urus boasts a twin-turbocharged, 4.0-litre V8 that develops 650 horsepower as well as 627 pound-feet of torque from 2250 to 4500 rpm. That prodigious output is sent to all four wheels via an eight-speed automatic transmission and according to the company, the Urus blasts from 0 to 100 km/h in 3.6 seconds, from 0 to 200 km/h in 12.8 seconds and can reach a top speed of 305 km/h.
It's the first time a Lamborghini vehicle is equipped with a turbocharged engine, for "packaging" reasons, according to Alessandro Farmeschi, COO of Automobili Lamborghini America LLC.
Thanks to the use of aluminum and high-strength steel, the Urus' curb weight checks in at just under 2200 kilograms (4850 lbs.). It's no featherweight, but it weighs much less than its main rival of the moment, the Bentley Bentayga.
However, the Urus promises a thrilling drive with four-wheel steering, and adaptive air suspension, carbon ceramic brakes as well as 21-inch alloy wheels. The vehicle on display at the event wore massive 23-inch wheels wrapped in 295/35R23 tires up front and 325/30R23 rubber at the rear, on option. The AWD system has a 40/60 front/rear torque split under normal driving conditions, but when wheel slippage occurs, up to 70% of engine torque can be sent to the front, or up to 87% to the rear.
The drive mode system offers various settings, including STRADA (street), SPORT and CORSA (race) as well as NEVE (snow) for the winter months. The EGO mode can be used to personalise various dynamic settings. Overkill, perhaps, but an off-road package with TERRA (off-road) and SABBIA (sand) modes can be specified as well.
"It's a car that combines two souls. One is the Lamborghini typical soul that blends design, performance, handling, driving dynamics and, in the end, emotion. Then we worked to create the other side that is usually not typical of a supercar, such as versatility, roominess, comfort, entertainment—all those features typical of the SUV segment. Our engineers merged all this together, creating the Urus, which delivers the performance of a supercar, and at the same time, gives our clients the opportunity to drive a Lamborghini every day, enjoying it with family and with friends, going on holidays or having fun during the weekend," added Farmeschi.
In person, the Urus is particularly striking. It undeniably flaunts the shape of an SUV, but its flat roofline is consistent with the designs of the Lamborghini Huracán and the Lamborghini Aventador. However, the design sketches show hints of styling cues inspired by the mighty LM002 of the '80s. Yes, many people have likely forgot that the automaker already sold an SUV thirty years ago, but that was a very different beast.
The 2019 Lamborghini Urus offers room for five in a lavish cockpit that mixes Alcantara, aluminum, carbon fibre and wood trim. Single tone or two-tone interior colour schemes are available, and a slew of personalisation options are possible as well. Features include 12-way power-adjustable and heated front seats as standard, with 18-way chairs being available on the options list, which can be ventilated as well.
The Lamborghini Infotainment System III interface includes two screens; the top one manages media, navigation and phone information, while the bottom screen integrates a keyboard or hand-writing recognition for easy input and controls the climate system. Bluetooth phone and media streaming functionality, USB ports for charging and music files as well as Apple CarPlay and Android Auto integration are included as well. A 1700-watt, 21-speaker Bang & Olufsen sound system is also available.
From a versatility standpoint, the Urus' cargo area is rated at 616 litres, but grows to 1596 litres when the rear seatbacks are folded down. That's compact-sized SUV proportions, but still, it's the most practical Lamborghini by a significant margin.
If a Lamborghini suited for the daily drive seems like a good idea, know that pricing starts at around CAD$232,000. The 2019 Lamborghini Urus can now be ordered, and the first units will arrive just in time for spring.