2019 Volvo V60: This is it!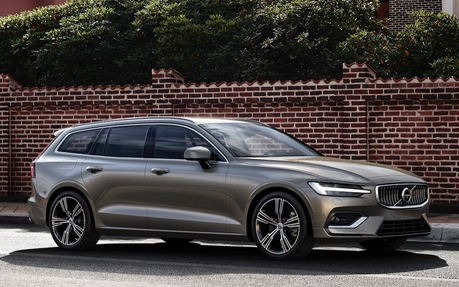 Last week, we shared with you some leaked images of Volvo's latest compact wagon with promises that an official launch was scheduled this week. Well, here it is. Introducing the much anticipated, all-new, 2019 Volvo V60!
Very Attractive and Powerful
Of course, just like the rest of Volvo's current lineup, the V60 is absolutely stunning, incorporating an overall shape that pleasingly resembles its big sister, the V90. Thanks to a sloping roof and a large pair of "Thor's Hammer" LED headlights on its front fascia—now a Volvo styling trademark—the V60 looks rather dashing!
However, it also incorporates a younger, more dynamic look, something which should help attract the affluent, younger demographic the car is targeted at.
Underneath the elegant sheetmetal lies Volvo's ubiquitous Scalable Product Architecture (SPA) platform which was shortened to accommodate the new car's compact dimensions. The T5, T6, and T8 engines will also make their way into the new wagon; however, these engines have been revised in order to give the V60 unique performance numbers.
The largest of the group, the T8, will of course be a plug-in hybrid variant, promising a total power output of 390 horsepower. Nothing is yet confirmed regarding the electric powertrain's driving range, but if we base ourselves on other Volvo products powered by this engine, expect something in the vicinity of 30 km.
A Second Plug-in Hybrid
Other changes for the V60 include a T6 engine that will be offered in two flavors, a standard 310-horsepower gas-only version, and a 340-horsepower plug-in hybrid variant. Nothing has yet been said about electric range. While Volvo hasn't released any power figures about the T5 engine, we expect it to develop around 250 horsepower.
Typical of current Volvo products, the V60 will offer all-wheel drive as standard in most of its trim levels. The only transmission offered will be an eight-speed automatic, and of course, being a Volvo, the car will be crammed with a full battalion of semi-autonomous safety technology.
We still know nothing about pricing, but we'll be at the Geneva Auto Show to tell you more about this all-new, and frankly superb Scandinavian wagon!