2018 Nissan Armada: Canyonero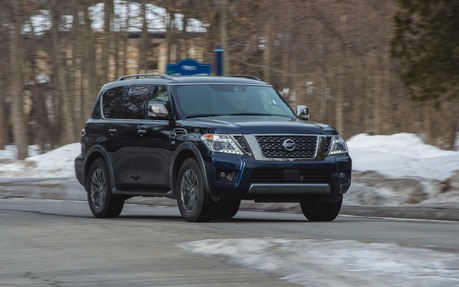 It's easy to see the Nissan Armada as a big rolling joke. In a world where the entire industry speaks of electrification, downsizing and reducing our carbon footprint, the sheer idea of a near-6000-pound, V8-powered, body-on-frame SUV does indeed seem somewhat ridiculous.
The most ironic thing here is that although this type of vehicle doesn't make much sense on paper, the industry is actually witnessing resurgence in popularity for them. We know North-American consumers are addicted to SUVs, and some families simply need to haul cargo and tow heavy things at the expense of hurting the planet. Yes, ladies and gentlemen, this is still very much a thing. And the Armada simply delivers.
But how does Nissan's big boy stand against its new, more sophisticated American competition, the 2018 Ford Expedition? I drove one to find out.
Patrolling the Streets
The Armada was entirely updated last year, and returns with very few changes for 2018. In the past, Nissan's big guy shared several of its mechanical and chassis components with the Titan, the brand's full-size pickup truck, a strategy its American rivals have been employing for years. But not this time. The 2018 Armada shares roughly all of its components with the Nissan Patrol, a full-size, off-road dedicated machine sold in other markets. The Infiniti QX80 also inherited the platform a few years ago. The Armada now takes a stab at it in an attempt to outpace the Americans. And yes, those tacky side vents have an actual purpose, thank god.
Proportionally, the new platform helps the Armada stick out of traffic like a top hat, with a dominant, top-heavy presence that further approaches it to the Infiniti in terms of style, especially around the D pillar area where the roof and window arrangement are nearly identical to its luxury brethren. Overall, the Armada appears more upscale, but the proportions remain somewhat weird. This is not what most would qualify as a good-looking SUV. Compared to the classic, squared-off three-box design of the Chevrolet Tahoe, the Chevrolet Suburban, the GMC Yukon and the Ford Expedition, the Nissan appears more like a cartoonish interpretation of what an SUV should be. Anyone remember the Canyonero?
Power and a Lot of Gas
Under the Armada's hood lies a proven mill, Nissan's familiar 5.6-litre V8, the same that propels the Titan. Power is rated 390 horsepower and 394 lb.-ft. of torque. Meanwhile, Ford downsized the Expedition's powertrain by equipping it with the EcoBoost turbo V6. The only available transmission for the Armada is a seven-speed automatic. All Armadas come standard with four-wheel drive as well as a two-speed transfer case. However, the Armada somehow does not get the Patrol's locking differentials.
Of course, the main reason the Armada exists is for its body-on-frame configuration. This means it outpaces all unibody seven-passenger trucklets in towing capacity. The Armada will pull 8500 pounds (3855 kg) out of the box which, until just recently, was the highest in its class. Only the Ford outranks it with a maximum capacity of 9200 pounds (4173 kg).
On the road, the Armada boasts a quiet cabin and a smooth ride. And its leather seats, especially in Platinum Reserve trim, are immensely supportive and comfortable. The V8 engine pulls hard and reacts energetically when commanded to do so, all while emitting satisfying sounds. And absolutely nothing can be said against the transmission, which downshifts fast and upshifts in butter smoothness.
As a matter of fact, Nissan declares a 0 to 100 km/h acceleration time in the low six-second range, impressive for a vehicle of this size and weight. The Armada simply gets up and goes when you mash that go-pedal. And that is its best quality.
Being body-on-frame typically means clumsy cornering dynamics, but the Armada manages to quell the traditional excessive body roll and tire slap attributes of such platforms with its independent suspension. In many respects, this is the most dynamic one of the big-boy SUVs currently out there, more so even than the Ford, but the steering is overassisted and vague, making it kind of feel like a school bus behind the wheel.
Fuel economy isn't the Armada's strong point, however. Sure, we can't expect these things to hang under tens, but a 19 L/100 km consumption average doesn't even come close to an effort. Even GM's 6.2-litre Yukon manages to sit below twelve.
Big Small and Old New
Generally speaking, the Armada is a rather disappointing vehicle, especially when compared with the new rivals it faces. My tester, the Platinum Reserve, stickers for $77,063, but its cabin feels less premium than some $40,000 products.
First, there's a dashboard whose styling resembles the one found in vehicles from a generation ago. The sunroof isn't panoramic, but rather appears to have been taken straight off of a Sentra's roof. And the infotainment system not only presents itself through a dated interface, but the menus themselves are horrendously complex, and there's no sign of UX research in the way the system's functionalities have been laid out. In addition, the entire system is deprived from modern connectivity features such as Android Auto/Apple CarPlay. I repeat: this vehicle costs seventy-seven grand. It unhappily doesn't feel like it.
Then, there's the problem with its interior dimensions. From the outside, the Armada looks enormous and sends out a message that it is large because it has the difficult duty of carrying a large family and all of its gear along the way, all while towing the boat up to the cottage.
But the reality is that this bull doesn't utilize interior space as well as its American competition. The trunk itself, when the third-row bench is in place, will only give way to 481 litres of room, unlike the Ford which easily gets over 550 litres. Even a Chevrolet Tahoe gets a few litres of extra cargo back there (509 litres). And the Armada's third-row seat, although easy to access due to a clever tip-over mechanism, is a rather small one that seems to have mostly been designed for kids.
Here's the problem with the 2018 Nissan Armada: it sits in a segment that has become harder and harder to justify for consumers. You win them over by selling them cargo space, power and towing capacity. And with the Americans dominating the field, if you're an outsider trying to pick a fight, like Nissan is attempting to do here, you'd better be larger, cheaper, roomier, and more fuel efficient than your rivals. Sadly, the Armada is none of the above.
Test drive report
Test model

2018 Nissan Armada

Trim level
Platinum
Price range
$64,998 – $71,498
Price as tested
71 498 $
Warranty (basic)
3 years/60,000 km
Warranty (powertrain)
5 years/100,000 km
Fuel economy (city/highway/observed)
17,5 / 12,9 / 19,0 L/100km
Options
N/A
Competitive models
Cadillac Escalade, Chevrolet Suburban, Chevrolet Tahoe, Dodge Durango, Ford Expedition, GMC Yukon, Infiniti QX80, Lexus LX, Lincoln Navigator, Mazda CX-9, Toyota Sequoia
Strong points

Energetic and powerful engine
Smooth automatic gearbox
Comfortable and quiet cabin

Weak points

Ridiculous fuel consumption
Dated interior
Tight third-row seat

Editor's rating
Fuel economy
We could barely keep the rig under the 18 L/100 km. For a modern V8, that's unacceptable.
Comfort
The cabin is quiet, and the leather seats are extremely comfortable.
Performance
The Armada is suprisingly quick off the line, its V8 pulls strong, and the automatic transmission responds quickly.
Infotainment
Dated interface, complex menus, lacks Android Auto/Apple CarPlay.
Driving
It's a full-size, body-on-frame SUV, nothing exciting here.
Overall
The Armada's roots are solid. As a full-size SUV, it gets the job done. Sadly, it gets outpaced by more refined and sophisticated competitors.