2018 Hyundai Elantra GT: Priced to Please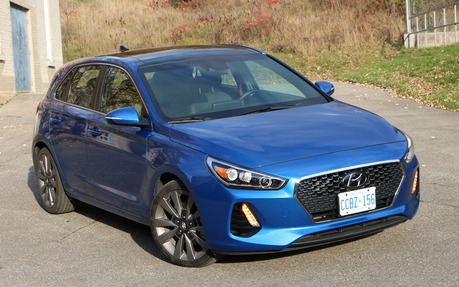 A compact car with a hatchback might just be the best compromise between efficiency and versatility for consumers on a budget. And in some cases, we can also throw in performance when manufacturers try to knock the Volkswagen Golf GTI off its pedestal, with mixed results.
Take the 2018 Hyundai Elantra GT. It's got all the basic goodness of the Elantra sedan, along with the convenience of increased cargo space, when either the rear seatbacks are in place or folded down. It looks pretty good, and it's reasonably priced—especially when we factor in its standard feature list.
However, the sedan and the GT are very similar, but they actually ride on different platforms. The Elantra GT is the North American version of the popular Hyundai i30 that's sold in Europe. Does it matter? Not really.
On the other hand, the GT's wheelbase is 2650 millimetres, while the sedan's is 50 mm longer. That means the five-door GT has slightly less rear legroom, but its higher roofline translates into a little more headroom front and back. All other interior dimensions are almost identical between the two.
The 2018 Hyundai Elantra GT's sportier character starts with what's found underhood. It gets a 2.0-litre four-cylinder engine that develops 162 horsepower and 150 pound-feet, while the sedan makes do with a 147-hp, Atkinson-cycle 2.0-litre four that emphasises fuel economy. As a matter of fact, the GT's combined city/highway rating is set at 8.4 L/100 km with the optional six-speed automatic transmission, while the sedan's is rated at 7.4 L/100 km.
However, the Sport variant, available on both the sedan and the five-door, benefits from a turbocharged, 1.6-litre four-cylinder engine that develops 201 horsepower as well as 195 pound-feet of torque between 1500 and 4500 rpm. It's the same engine that equips the Hyundai Veloster Turbo as well as the Kia Forte SX.
That extra power does make for a quick and fun-to-drive car, and the engine is available with either a six-speed manual or a seven-speed, dual-clutch automatic. The generous torque helps the 2018 Hyundai Elantra GT Sport blast off swiftly, but unfortunately, above that 4500 rpm peak torque threshold, the engine seems to run out of breath. Its rival the GTI gets to flaunt 220 hp and 258 lb.-ft. of torque, so unsurprisingly, the VW is quicker and has more midrange punch.
The GT Sport's suspension is well tuned, but not as athletic as the GTI's. Whether that matters of not all depends if we're the type of person who'll get up on a Sunday morning to barrel down some twisty country roads. If we're stuck in traffic most of the week, it's not an issue. And under normal driving, the Hyundai's ride isn't punishing, so that's an excellent compromise.
Fuel consumption goes up with the turbo engine, rated at 9.2 L/100 km in the city and 7.1 on the highway, when matched to the automatic transmission. We managed 7.8 L/100 km over the course of our test, which is pretty good, and the engine can take regular unleaded—also good news.
The 2018 Hyundai Elantra GT's interior design is different from the sedan's. The biggest distinction is the infotainment system panel mounted high up on the dashboard, instead of being integrated in the centre stack. Some like it, some think it looks like an afterthought, but happily, the controls surrounding the touchscreen aren't a far reach. The Sport trim gets a meatier steering wheel as well as red contrast decorative inlays, stitching and seat belts to spruce things up.
As mentioned before, rear-seat legroom isn't that great, but there are some worst offenders in the compact hatchback segment. Namely, the Toyota Corolla iM and the Ford Focus. On the flipside, a Subaru Impreza, a Volkswagen Golf and a Honda Civic are more accommodating back there. However, the Elantra GT beats its competitors in regards to cargo space with the rear seats up, and it's nose-to-nose with the Impreza when the seatbacks are folded down. The GT is only a couple hundred litres less roomy than the Hyundai Tucson SUV.
Like all its hatchback rivals, there is no stripped-down, low-cost version of the Elantra GT. It starts at $20,449 in GL trim, before freight and delivery charges, but it includes air conditioning, cruise control, heated front seats, a heated steering wheel, an 8.0-inch infotainment touchscreen with Apple CarPlay and Android Auto integration, 16-inch alloy wheels, height-adjustable front seats, blind spot monitoring and much more. That's a good deal.
The GLS adds bigger wheels, a panoramic sunroof, an intelligent key and dual-zone climate control for a couple thousand more, while the Sport trim offers the turbocharged engine and sportier suspension, leather upholstery, LED headlights and more for $27K. It might be as racy as a GTI, but it's more than three grand cheaper.
Overall, the 2018 Hyundai Elantra GT is an attractive and sporty little hatchback that includes plenty of features for the asking price. However, it's one of the least fuel-efficient in its class, so that's something to think about, but it has little to fault compared to our favourites, the Honda Civic and Mazda3 Sport.
Test drive report
Test model

2018 Hyundai Elantra

Trim level
GT 1.6T (Auto)
Price range
$15,999 – $30,499
Price as tested
30 499 $
Warranty (basic)
5 years/100,000 km
Warranty (powertrain)
5 years/100,000 km
Fuel economy (city/highway/observed)
9,2 / 7,1 / 7,8 L/100km
Options
N/A
Competitive models
Chevrolet Cruze, Ford Focus, Honda Civic, Subaru Impreza, Volkswagen Golf
Strong points

Lots of cargo room
Plenty of features for the price
Aggressive styling

Weak points

Fuel economy could be better
Not much rear-seat legroom
Sport trim not as punchy as a Golf GTI

Editor's rating
Fuel economy
Consumes more than most of its competitors, although it did prove efficient during our test.
Comfort
Good seats, but rear-seat occupants will lament the lack of legroom.
Performance
The turbo engine is gutsy at low revs, but runs out of breath above 4500 rpm.
Infotainment
The controls could be more accessible, but overall, the system is easy to use and the touchscreen is big.
Driving
The Sport version has some moves, but won't follow a GTI on twisty country roads or on a track.
Overall
Not quite as alluring as a Civic or a Mazda3, but definitely worth a look.