2018 Infiniti Q50 Red Sport 400: The Underdog Has Bite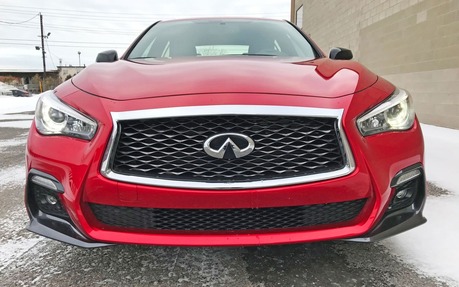 If your company is competing in the compact luxury sedan segment and it's not named BMW, Audi or Mercedes-Benz, then you're an underdog. Sure, you might find a top ten list here or there with the odd outsider besting the big three Germans, but for the most part, they remain the ones to beat.
Infiniti has given a valiant effort toward unseating the usual winners in this category. The 2018 Q50 is one of their best to date and receives an update this year. There is a new trim level naming scheme meaning you'll have the choice between Luxe, Sport or Red Sport 400. The visual modifications aren't major, but the trained eye may be able to notice them.
Changes at the front of the 2018 Infiniti Q50 for Sport and Red Sport 400 trims include a more angular front bumper and wider, lower air intakes as well as a more prominent airfoil at the base. The headlights are the same shape, but the pattern of the LED daytime running lights has been altered. In the rear there are new LED taillights and a greater focus on the twin exhausts and rear diffuser with a two-tone paint finish—the body colour is accompanied by dark metallic trim around the base of the rear bumper. I think most people will find the overall look of the Q50 to be quite attractive. It's not too aggressive so don't expect it turns heads, but people will definitely know you're driving an upscale luxury vehicle (if that's something you care about).
The cabin of the Q50 is all-around excellent with a high-end feeling and quality craftsmanship. The changes for this year are minor and include stitched leather around the instrument panel and new wood trims for the dashboard. The layout is excellent in particular because you can reach the volume and other controls without having to lean forward. Other positives include the presence of an actual gear shifter and physical buttons for climate and audio—things that unfortunately seem to be on their way out. The design is well thought out and makes operating the vehicle effortless. The leather seating is firm and comfortable as is the steering wheel.
Infiniti has two large screens for the infotainment system, which is fine. However, even at the darkest setting at night, it was something a little too bright. The top screen handles the navigation and the lower one, the infotainment system. There is a dial next to the shifter to control the maps, but I never touched it once and question whether such a large device is needed strictly for navigation. I would much prefer it be able to manipulate the radio, volume or other such functions.
Where the2018 Infiniti Q50 really shines is under the hood with a choice of four advanced powertrains. Leading the quartet of options is the VR-series 3.0-litre V6 twin-turbo engine. It is available in two states of tune—300 in the Sport or 400 horsepower in the Red Sport—and is a more than worthy successor to the renowned, highly awarded VQ-series V6 that has been a mainstay in the lineup for many years. Torque output figures are 295 and 350 lb.-ft. respectively.
While smaller in capacity than the previous 3.7-litre VQ V6, the VR adopts a series of innovative technologies such as high-pressure direct-injection, lightweight aluminum construction, an integrated exhaust manifold built into the cylinder head and an advanced twin-turbo system capable of smooth and immediate response under acceleration. The other two options are a 208-horsepower, turbocharged 2.0-litre four-cylinder unit and a gasoline-electric hybrid, which combines a 3.5-litre V6, an electric motor and a compact laminated lithium-ion battery for total of 360 horsepower.
I was able to test both the 300-hp and 400-hp versions and they did not disappoint. It's one of the rare times where all the manufacturer lingo commonly found in press releases seemed true. Both motors were ultra-smooth during acceleration over the entire power band. Both exhibited intense push-you-back-into-your-seat performance that begged for more. One oddity I will point out is that 300 horsepower felt nearly as quick as 400, so be sure to test both back to back to ensure you want to shell out the extra cash. We'd have to get the two vehicles on a track at the same time in order to get you a more definitive analysis, but it did bear mentioning here.
Sport mode allows for a more aggressive shift pattern with automatic up- and down-shifting at higher rpm. Manual mode is also standard on Q50 3.0t Sport and Red Sport 400 grades. In short, it's fun as heck—for an automatic. Unlike some of its competition, the Q50 comes standard with all-wheel drive which is excellent for our harsh Canadian winters. An Infiniti system called Direct Adaptive Steering offers greater feedback and even gives drivers flexibility to choose the level of steering assistance and feedback. There are no complaints here as the Q50 held the road like a champ. I'd like to see some more exhaust noise though—especially on the Red Sport and especially in sport mode. It's just too quiet.
Pricing for the 2018 Infiniti Q50 is competitive and starts at $39,995 for the base 2.0T Luxe trim. The 3.0T Luxe is $44,995, the 3.0T Sport is $47,995, the Red Sport is $52,695 and the Hybrid $56,495. All prices exclude roughly $2,100 in transport and other fees. I find $47,995 a great price for the 3.0T Sport considering a bare-bones BMW 330i xDrive sedan, no options and 248 horsepower is $45,900.
Test drive report
Test model

2018 Infiniti Q50

Trim level
RED SPORT 400 AWD
Price range
$39,995 – $56,495
Price as tested
CA$52,695
Warranty (basic)
4 years/100,000 km
Warranty (powertrain)
6 years/110,000 km
Fuel economy (city/highway/observed)
12.5 / 9.3 / 12.3 L/100km
Options
N/A
Competitive models
Acura TLX, Alfa Romeo Giulia, Audi A4, BMW 3 Series, Cadillac ATS, Jaguar XE, Lexus IS, Lincoln MKZ, Maserati Ghibli, Mercedes-Benz C-Class, Volvo S60
Strong points

Very smooth performance
Intuitive interior layout
Competitively priced

Weak points

Exhaust too quiet on high-performance versions
Nobody will know you have a Red Sport
400 hp didn't feel much quicker than 300 hp

Editor's rating
Fuel economy
Average for this type of vehicle.
Comfort
Very comfortable all around.
Performance
Amazing performance from these new engines.
Infotainment
Easy to use and keeps physical buttons.
Driving
It begs for more when you push it.
Overall
A fine package that holds its own against the competition.