We finally get to Test the 2019 Mercedes-Benz A-Class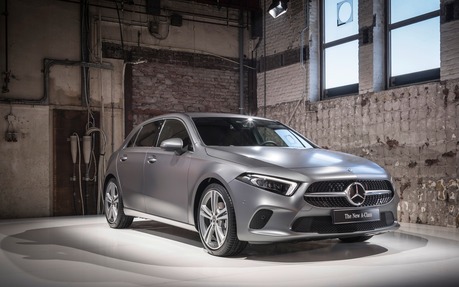 Since its inception in 1997, the compact Mercedes-Benz A-Class has been forbidden fruit in North America. It may have not been as ripe and juicy as the fruit Adam temporarily enjoyed in the Garden of Eden, but it was unattainable and therefore desired in this neck of the woods.
For its fourth-generation, the all-new 2019 A-Class will make its long-awaited debut in Canada and the United States, and we will be one of the first groups to test drive the car known as the "Baby Benz" in Split, Croatia. The new entry-level luxury car is a calculated attempt to lure new and younger buyers to the Mercedes-Benz brand at a reasonable price.
Outside of Canada receiving both the hatchback and the sedan (the sedan is the only version coming stateside), there's a lot of buzz surrounding its interior and technologies previously seen in the likes of the upscale E-Class and S-Class.
It all starts with its wide digital display with dual screens that feature a new MBUX (Mercedes-Benz User Experience) multimedia system that possesses artificial intelligence, HD graphics, navigation with augmented reality technology, and total connectivity. The MBUX system will become a vital tool in future Mercedes products as it customizes the user experience through a choice of touchscreen, touchpad, steering wheel buttons, or voice commands with natural speech recognition (activated by "Hey Mercedes" in English or "Dis, Mercedes" in French).
When it arrives in Canada in November 2018, both the four- and five-door versions will sit on standard 17-inch wheels and come with only one engine: a 2.0-litre four-cylinder that produces 221 hp and 258 lb.-ft. of torque that's matched to a seven-speed, dual-clutch transmission and 4MATIC all-wheel drive. Not much talk has been made on its performance, so it will be interesting to see if the A-Class handles the various bends on the Croatian coastline in a quiet, vibration-free manner.
There will be plenty discovered on this first drive, so stay tuned for a more detailed look at the all-new 2019 Mercedes-Benz A-Class.