2018 Ford F-250: Continuing its Dominance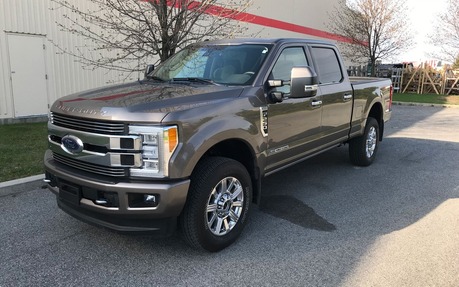 Ford has been Canada's truck leader for the past 51 years and it doesn't look like that will be changing anytime soon. Unwilling to get too comfortable at #1 and not afraid to take chances by tinkering with established products, Ford reworked the 2017 F-Series Super Duty from the ground up to deliver an even more capable offering, and it remains the same for 2018.
The new Super Duty employs lightweight aluminum in its construction, allowing it to shed hundreds of pounds. As this is a heavy-duty truck, frame rails and crossmembers continue to be composed of high-strength steel and are larger and stronger than in the previous model.
Under the hood is a monstrous 6.7-litre Power Stroke diesel V8 making 440 horsepower and a whopping 925 lb.-ft. of torque for all your hauling needs. The exact towing figures vary quite a bit depending on the plethora of possible configurations available, but the F-250, Sierra/Silverado 2500HD and Ram 2500 all max out around the 8000-kg (18,000-lb.) mark, with the F-250 having a slight edge.
Ford has equipped the truck with plenty of cameras to help you with towing or even just basic manoeuvring in tight spaces. This Ultimate Trailer Tow Camera System is optional on most trims, and standard on the Limited. If you're not towing but hauling, the bed door can be electronically opened via a button on the inside. Easy access steps with a vertical handle make getting up into the bed a little more graceful and less painstaking than rolling your body over the tailgate as I've often done.
The test vehicle was the Limited which sits atop Ford's trim level hierarchy and therefore is the most expensive and luxurious F-250 money can buy. I rather liked the Stone Grey exterior colour (actually more of a brown than a grey), but there is a large palette of colours to choose from. Each trim level has a unique front grille to differentiate it from the rest of the lineup and the Ford diehards will likely pick up the subtle differences immediately. Ford has done a great job with the little details on the exterior that make the Super Duty stand out, including the massive bracket-shaped daytime running lights, vertical insignia with reverse angled indented lettering, engraved "Super Duty" on the hood and just an overall good-looking exterior.
The interior hasn't been neglected either and with this Limited trim comes all the bells and whistles. You can fit your five-person construction crew (or bachelor party—whichever) inside with room to spare. Since I neither have a construction crew to drive around, nor a bachelor party to attend, I put booster seats and kids inside. Three boosters or baby seats can fit side by side on the rear bench, which is always handy. The crew will enjoy Ford's cockpit attire including comfortable leather seating, brushed aluminum accents and power twin-panel moonroof. The rear window is power-operated as are the extendible towing outside mirrors. Ford allows you to shift into 4x4 mode (if you bought the 4x4 obviously) electronically via a knob on the dash. If you are short or have short friends, there is no need to worry how they'll fare climbing into the cabin thanks to the power-retractable side steps.
Ford's SYNC 3 infotainment system is among the best on the market and is just a joy to operate. This is an area that many automakers continue to struggle with, but not Ford. SYNC 3 offers high-speed performance, enhanced voice recognition with swipe capability, available navigation with easy destination entry and pinch-to-zoom functionality, Siri seamless integration, and automatic updates over Wi-Fi.
For such a large vehicle, the F-250 Super Duty drove like a normal SUV would. Acceleration was smooth and effortless. Highway cruising is equally as comfortable with the truck absorbing all the bumps and potholes in the road with ease. I didn't have the opportunity to tow anything, but the vehicle was used to deliver a king mattress as well as a queen mattress plus a bed frame. All items were loaded, transported and unloaded with ease, though I would have preferred a few more anchor points to tie items down in the bed. I was actually surprised because this is one of the most important things to have.
I really tried to find something I didn't like about the new Super Duty, but it was tough. Aside from the anchor point issue, there wasn't much to complain about. I suppose we could talk about how this is a truck which starts at $92,449, though to be fair, you can still get a leather-equipped Lariat trim for much less. The 15.2 L/100km fuel consumption is high, but normal for a heavy-duty pickup. My expectations were high and Ford just plain delivered with the new Super Duty.