Say Hello to the Nissan LEAF Open Car… Convertible!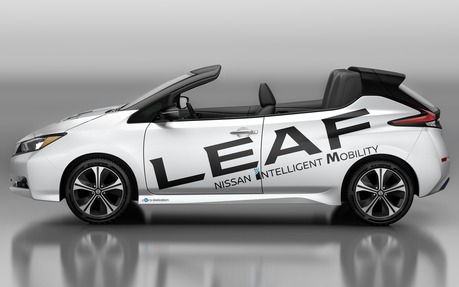 In Tokyo, during a forum celebrating the 100,000-unit sales milestone of the Nissan LEAF since it was introduced in 2010, the automaker presented a special car for the occasion.
In front of about 100 people, including government officials and company executives who were participating in a discussion to create a zero-emission society, the Nissan LEAF Open Air was revealed, a convertible version of the fully electric compact car.
No details have been shared regarding the modification process of the car, but this LEAF seems to have been heavily transformed. The top was cut off and the rear doors were removed, allowing the installation of a raised rear bench seat, no doubt to sit dignitaries or celebrities during parades or public presentations.
However, it isn't the first time that Nissan conjures up a convertible version of its popular LEAF. It created the LEAF Bullpen Car that's used on the Yokohama Stadium field, a topless and doorless version of the vehicle wearing the colours of the DeNA Baystars baseball team. And in the past, topless versions of other models were built as bullpen cars, including the Bluebird, the Be-1 and the S-Cargo.
Don't look anytime soon for a convertible version of the LEAF at your local Nissan dealer.