2019 Infiniti QX50: Another Talent for the Rank and File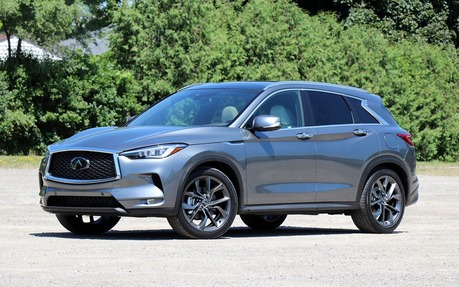 For about 15 years and counting, Infiniti – Nissan's luxury division – has set itself apart thanks to a lineup of dynamic vehicles that are more performance-oriented than their Japanese counterparts. Models like the G35, FX35/45 and those that followed helped give the brand more personality and often earned it comparisons to BMW. As German brands go, BMW is considered the sportiest overall.
And sportiness remains the cornerstone of Infiniti's strategy. Let's face it, they are churning out vehicles that are shapely, esthetic, dynamic and most definitely more elegant than those made by Acura or Lexus. But sport cars aren't exactly selling like hotcakes anymore, even the most popular models are attracting fewer and fewer buyers. Nowadays, customers only have eyes for SUVs and crossovers, so it's easy to understand Infiniti's diminishing popularity across North America. The last few years have seen sales stagnate because its models – the QX60 notwithstanding – no longer meet consumer needs. Thus, several of the brand's products suddenly found themselves short-term car leasing agencies to sell them quickly.
Hoping get back on track by challenging the big guns in the category, the brand's strategists had a lot on their plate. It was clear that the strategy they initially adopted with the EX35/37/QX50 no longer made sense. Unsurprisingly, the original – although marginal – vehicle known as the QX50 was completely transformed. Sure, it was neither daring nor particularly original, but it copied the Q5, X3, GLC and XC60 exceptionally well, and the formula was a success. And this is just as unsurprising, since one-third of luxury vehicles sold in Canada belong to this segment.
German inspired
Infiniti drew inspiration from the bestselling vehicle in the segment: the Audi Q5. It stands to reason, especially since several members of the Inifiniti design team worked for German brands in the past. Don't be surprised to find German-inspired design features such as a dominant grille or a hood spilling over onto the fenders. The QX50 has a great look and, like most of its rivals that – other than the Lexus NX – appeal to a large majority of buyers in general.
The same goes for the cabin. Unlike its predecessor, it has a distinguished presentation, good quality materials and a long list of factory-standard features, including a panoramic sunroof on all versions. The space is more generous (that wasn't hard to do) making the QX50's interior among the roomiest in its class. High marks go to the divided, sliding rear seats, a dashboard oriented toward the driver and an excellent driving position.
On the other hand, the ergonomics suffer due to Infiniti's stubborn insistence on keeping a two-screen, unnecessarily complex and sometimes illogical infotainment system.Using the navigation system is nothing short of a nightmare, and hasn't been improved in the least compared to the other models in the lineup.Even worse, the AppleCarPlay/AndroidAuto application is conspicuous by its absence. The folks at Infiniti respond by saying that clients will quickly get used to the in-house system.
Rank and file with a twist
All the vehicles in the segment offer a 2.0-litre four-cylinder turbocharged engine. Until last year, Acura and Infiniti were the only ones with a V6, but both fell in line after a makeover of their respective models.
Why a 2.0-litre turbo? The simple answer is that this type of engine joins a global marketplace where large engine capacities are often taxed. However, Infiniti decided to opt for the VC-Turbo, an engine that has been years in the making. Its unique variable compression ratio adjusts piston height with multiple crank shafts. This makes engine capacity variable too, helping obtain better fuel economy or optimized performance.
Obviously, Infiniti likes to emphasize the 25% improvement in fuel consumption compared to the previous version, and that isn't far from the truth. What they usually neglect to mention is that the old version of the QX50 was one of the least fuel efficient vehicles in its class, with a combined average of 12 litres per 100 km. That figure is now a combined total of about 10 litres per 100 km, which means it's about average in the segment. More thorough testing will be required for a real calculation of the fuel consumption since the conditions in which it was tested were rather optimal.
Sport DNA?
The marketing whizzes are labelling it "performance-inspired," but the new QX50 does not have the DNA of a sports car. However, that doesn't mean it's a lemon either. It doesn't handle like a sports car: at best, it will give you a few thrills when you select Sport mode, which helps make the suspension firmer and modifies the power management settings. Instead, the QX50 is now targeting families instead of thrill seekers, so don't expect to see the manufacturer introduce a Red Sport version with a more dynamic engine, as is currently the case with the Q50 and Q60. The only available engine is a pleasant 268-horsepower 2.0-litre with generous torque that is sure to satisfy the target clientele. All-wheel drive also comes factory standard, which is not the case in the U.S.
Although 2.0-litre engines are ubiquitous in the class, no one has yet dared to offer a CVT – until now. Despite its reputation for fuel efficiency, this type of transmission is often decried as being too elastic and for the ungainly sound of the engine, whose revs simply can't keep up during accelerations. Infiniti, however, has chosen to integrate it in the QX50 as it did with the QX60. The CVT is fine for the Nissan Rogue, but buyers in a premium vehicle category are generally, and subconsciously, looking for a certain amount of mechanical refinement. Those who simultaneously test drive the newAcura RDX and QX50 will see a huge difference that could very well tip the balance in favour of the competition.
Pro Pilot Assist
Pro Pilot Assist, a semi-autonomous driving system, is available. It takes multiple parameters into account to keep you in a lane while distancing you from the vehicle in front of you. If you let go of the steering wheel for more than 10 seconds, a signal will prompt you to retake control. This technology can be great in certain situations, such as in an urban setting where a temporary moment of distraction would normally lead to an impact that could have otherwise been avoided. The vehicle can slow to a complete stop if it detects an obstacle.
The price is rather competitive, too. For less than $50,000, you get a very well equipped vehicle. For German vehicles, this figure represents a psychological barrier that you have to pass to get a minimum number of gadgets. It remains to be seen if the customers will take Infiniti's bait: offering a product that is better adapted to buyers' needs but is most definitely too rational in its approach to make it a slam dunk.
Test drive report
Test model

2019 Infiniti QX50

Trim level
N/A
Price range
$44,490 – $57,990
Price as tested
CA$57,990
Warranty (basic)
4 years/80,000 km
Warranty (powertrain)
6 years/110,000 km
Fuel economy (city/highway/observed)
10.0 / 7.8 / 9.7 L/100km
Options
N/A
Competitive models
Acura RDX, Audi Q5, BMW X3, Lexus NX, Volvo XC60
Strong points

Seductive lines
Factory standard equipment
Interior space
Generous torque in low gear

Weak points

Infotainment system needs an update
CVT that takes away from the pleasure of driving
Unknown reliability of the VC-Turbo engine

Editor's rating
Fuel economy
Clearly better than before, but more thorough testing is needed for more accurate figures.
Comfort
Very comfortable, well soundproofed and good driving position.
Performance
Nothing exceptional, outside of generous torque in low gear.
Infotainment
This vehicle's main weakness. Bring on AppleCarPlay/AndroidAuto in a single screen!
Driving
The definition of driving experience is relative. Moreover, the feeling of the CVT gearbox casts a shadow on a positive assessment overall.
Overall
It definitely be more popular than its predecessor, but we're not sure it will be able to win over Q5 and X3 buyers.