2019 Hyundai
Santa Fe

: Loaded, Handsome and Affordable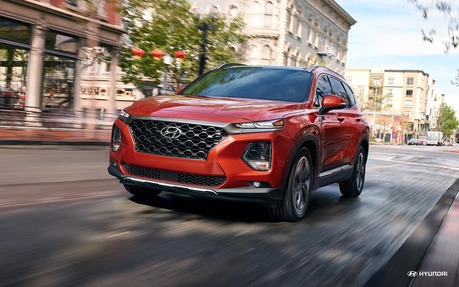 Hyundai's timing for the Santa Fe could not have been better. Way back in 2000, they released a generous-sized sport-utility vehicle that, despite being ugly as sin, consumers could not get enough of. I recall a close colleague of mine referring to it as a member of the porcine family.
Hyundai learned quickly as the second-generation Santa Fe got real handsome, and even more popular. The third generation, known as the Sport and XL, knocked the socks off the competition once more. While none of these generations were perfect, they offered value, performance and versatility. As competition in the compact-midsize crossover segment continues to grow, Hyundai is unveiling they're most competent and feature-packed Santa Fe ever.
Starting at $28,999, the 2019 Hyundai Santa Fe promises to be safer and better in every conceivable way. For 2019, the Korean brand's flagship CUV is built upon the company's SUPERSTRUCTURE, for improved passenger protection and hopefully heightened driving dynamics.
Base versions get the 2.4-litre four-cylinder engine while higher trims gain a 2.0-litre turbocharged Theta-II four cylinder. The latter produces 235 horsepower and a healthy 260 lb.-ft. of torque. AWD is standard with the 2.0-litre, optional with the 2.4-litre and there's an all-new eight-speed automatic transmission as well. We expect performance will be good, but we're more interested in fuel economy as the previous-generation Santa Fe equipped with a 2.0-litre turbo returned some abysmal fuel numbers.
There's enough content, both technology- and safety-wise to write an entire story on. Suffice it to say that if it's not offered or available with the new 2019 Hyundai Santa Fe, it's probably doesn't exist…
We head to Kananaskis Village, just west of Calgary, Alberta, this week for a first drive of what will likely be another smash hit for Hyundai. Check back soon for the full review.