2018 Jeep Rubicon Trail Adventure: You'll Never see the Wrangler the Same Way Again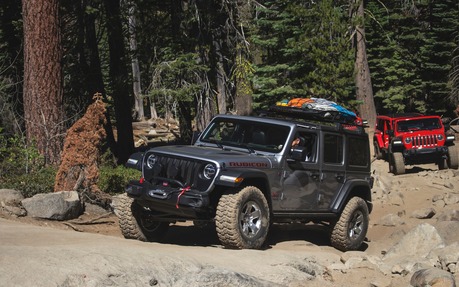 "You won't need that here," said one of the instructors as he saw me checking out my phone. Indeed, out there, in the United States' Sierra Nevada, there is no cell phone reception, no Wi-Fi, no sign of life for kilometres on end. It's a dry place, a rocky place, one decorated with Redwoods. It's hot during the day, and very cold at night. It's a place where one could easily get lost, or even lose their life if they didn't know what they were getting into.
Isn't that the perfect playground to drive a Jeep?
The Nurburgring for Off-road Vehicles
The Rubicon Trail is one of the most intense off-road courses on the planet. It's comprised of 35 km of rocks and steep inclines. Essentially, you don't go there in a crossover such as the Honda CR-V or the Toyota RAV4. The Rubicon is for pros. And believe it or not, this is where Jeep tests its Wrangler, where the Rubicon name stamped on its most extreme model comes from.
While some carmakers fine-tune their cars on the legendary Nurburgring circuit in Germany, Jeep calibrates its iconic model here. Believe us when we say that the Trail Rated badge on your Wrangler isn't just a marketing stunt. It's the real deal.
The 2018 Jeep Wrangler Rubicon comes straight out of the latest Wrangler generation. Purists call it by its internal code name, the JL. It adds important modifications to what is already a capable off-road machine, allowing it to take on the harshest conditions Mother Nature has at her disposal.
The add-ons include a set of BFGoodrich T/A K02 33-inch tires, a Rock-Trac transfer case with a 4.1 ratio, Dana M210 (front) and M220 (rear) axles, skid plates, a reworked suspension setup, and rocker panels made of steel.
Like the rest of the Wrangler lineup, the Rubicon can either be powered by a 3.6-litre V6 good for 285 horsepower and 260 lb.-ft. of torque, or a 2.0-litre turbo four, coupled to a tiny electric motor, for a total power delivery of 270 horsepower and 295 lb.-ft. of torque. These engines can either be grafted onto an eight-speed automatic, or a six-speed manual gearbox.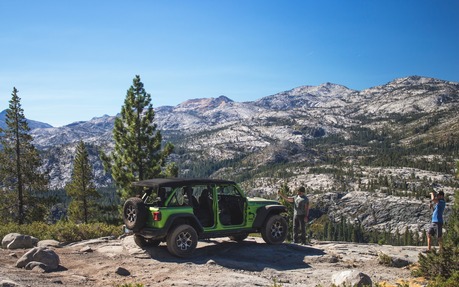 From the Helicopter to the Camp
The adventure began with a helicopter ride that then dumped us at the entrance of the trail. That's where the Jeeps were parked. Some had two doors, others four. Hard tops, rag tops, green, orange ones. They were all there.
The plan was to get to the trail camp, which is maintained and financed by the members of the Rubicon foundation. Once there, we'd refill on gasoline, food, and water, then sleep in tents. No grand hotel here, no shower, just a river and chemical toilets for our special needs. This wasn't a media event like the rest.
I grabbed the wheel of a four-door Wrangler Rubicon, fitted with the V6 and the automatic transmission. Mine had Mopar accessories on it, such as a lifted suspension and a Ward winch. I figured these add-ons would serve me good in a trail I was attacking for the first time in my life.
The instructors were clear right at the start: set your Jeep to 4x4 low, lock the differentials and disengage the front sway bar to allow the vehicle to rock easier and allow its suspension to articulate more. Immediately after that, I was instructed about the importance of driving these things with two feet. Apparently it helps smooth out the tight and technical sections, and trust me, it works!
Handing us a lunch bag, a cooler filled with water bottles and a tube of sun screen, our instructors ordered us to follow the convoy of some thirty Jeeps into the wilderness, or what was, in my case at least, one of the most unforgettable experiences I'd ever witnessed.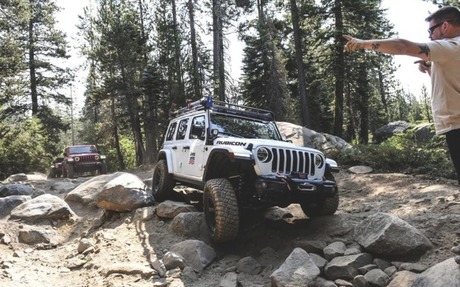 All Stock
Our Jeeps had no mechanical upgrades; they were essentially the same Wrangler Rubicon that sits in your local FCA showroom. And it was right smack in the middle of the trail, when I was asked to cross a large crevice in a rock, my Jeep's suspension stretched out like the legs of a spider, the frame millimetres from scratching the rocks, all blood of my body tilted to the left, that I asked myself an important question: is there any other vehicle in which I could do this?
Sure, on the Rubicon trail, you meet a variety of cool machines; old Ford Broncos, Toyota 4Runners, even some pickup trucks like the Chevrolet Colorado and Toyota Tacoma. But they're all heavily modified. Stock vehicles, such as our 2018 Wranglers, which other members of the trail admired for their capability, I saw none. And I'm not convinced the owner of a Range Rover or a Bentley Bentayga would have the balls to bring his/her ultra-expensive machine here. Even then, I'm sure those posh SUVs couldn't follow along.
A Mercedes-Benz G-Class, perhaps? At about $130K, that's getting expensive to have a bit of fun in the rocks!
Personally, I couldn't think of any other vehicle on Earth, bone stock out of the factory, with a warranty on it, capable of completing this immensely complex trail. Big Sluice, Granite Bowl, Cadillac Hill, all sections of the Rubicon that are just as intense as the next. And to my surprise, except maybe some light bruises that the Jeep employees accepted with a large grin on their faces, the Rubicon was just an appetizer for our Wranglers.
Mechanical issues? None. Some skid plates and frames were scratched, and one colleague high-centred herself on a rock, forcing us to rescue her with another Wrangler. But apart from that, nothing dramatic, except for a warm round of applause from other members of the trail that had gathered there to see what the all-new 2018 Jeep Wrangler was capable of.
But besides testing the off-road capability of one of the most iconic American vehicles on the planet, I got closer to the cult following related to off-roading. At the camp, at night, at the heart of the Sierra Nevada, you'll find a genuine fraternity, where happy men and women regroup in the middle of nature, far from civilization, smartphone notifications and stress-filled emails. With a beer in my hand and a cigar in my mouth, sitting by the fire, accompanied by my newfound friends, I rapidly understood what the Jeep hype is all about.
I came out of the adventure replenished, a tad burned by the sun, my shoes filled with sand, owing massive respect to the Jeep Wrangler.