10 Things you Need to Know About the New 2019 Hyundai
Santa Fe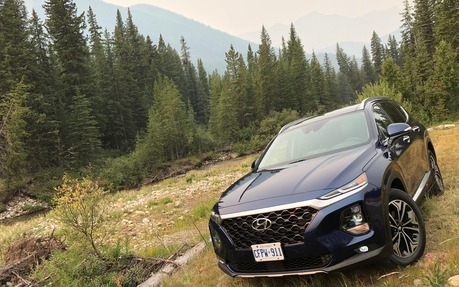 Hyundai's Santa Fe crossover enters 2019 as a nearly all-new vehicle. If you're shopping for a midsize crossover, make sure you look into this value leader.
We've written a full review of the 2019 Hyundai Santa Fe, so make sure you read up on it. A new vehicle purchase is a big deal and should not be taken lightly.
In order to expedite your decision-making process, however, we've selected the ten most important aspects of the new Santa Fe that we think you need to know about.
It is built on a new platform that is lighter and stiffer than before.
This new platform has allowed Hyundai engineers to upgrade suspension and steering for a more rewarding driving experience.
Pricing has scarcely increased from 2018 to 2019 despite all the improvements, both mechanical and technological.
Hyundai is aiming to disrupt the design status quo with a new shocking design philosophy.
Powertrain selections are unchanged from 2018, with the exception of a 5-hp loss for the 2.0T engine.
New eight-speed automatic. It is a smooth operator, but does not improve acceleration or fuel economy.
Full battery of passive and active safety features available from the lowest trim.
HTRAC AWD is borrowed from the Genesis brand and can transfer power from 100/0 to 50/50 according to driving conditions.
New trim levels: Essential, Preferred, Luxury and Ultimate.
A diesel engine option is still in the works, but unlikely to be offered anytime soon.