2019 Chevrolet Colorado ZR2 Bison: As if a "Regular" ZR2 Wasn't Enough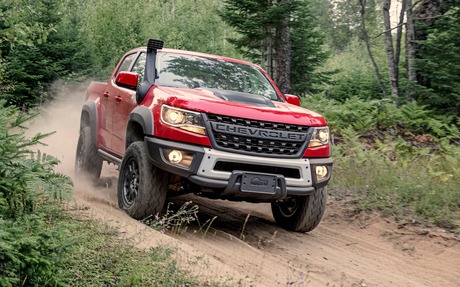 For extreme off-road adventurers, there are relatively few choices on the market right now. We can get ourselves a Jeep Wrangler, a Toyota 4Runner or a Ford F-150 Raptor, but General Motors also offers the Chevrolet Colorado ZR2, a muscular and robust pickup truck.
As if this version of the Colorado wasn't skilled enough for adventures in the trails and in the desert, Chevrolet has just announced the Colorado ZR2 Bison, created with the collaboration of American Expedition Vehicles.
To the "regular" ZR2, AEV added five underbody skid plates stamped in Boron steel. These components protect the oil pan, the fuel tank, the transfer case as well as the front and rear differentials. Front and rear steel bumpers have also been installed, in addition to a front grille bearing the CHEVROLET inscription in capital letters, distinguishing the Bison from the conventional ZR2. Also, a winch can be fitted to the front bumper, which already houses fog lamps.
The Bison edition is completed with exclusive 17-inch alloy wheels wrapped in 31-inch Goodyear Wrangler Duratrac tires, beefier fender flares, bed decals, an AEV Bison badge on the tailgate as well as AEV logos on the floor mats and head restraints. As an option, the ZR2 Bison—or any version of the Colorado, for that matter—can be equipped with a snorkel for improved air filtration for dusty driving conditions or fording streams.
As is the case with the Colorado ZR2, the Bison can be motivated by a 3.6-litre V6 that produces 308 horsepower, or a turbo-diesel, 2.8-litre four-cylinder engine that churns out 181 horsepower and 369 pound-feet of torque.
Pricing for the 2019 Chevrolet Colorado ZR2 Bison hasn't yet been announced for the Canadian market, but the pickup should go on sale in early 2019. It will benefit from a full manufacturer's warranty.