2019 Lexus UX: What You Need to Know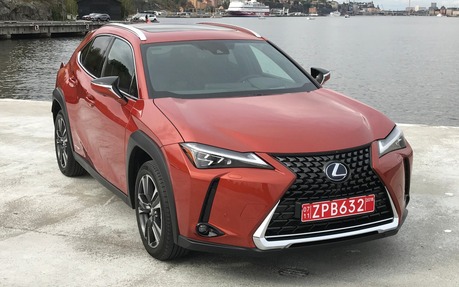 Just over five years ago, Lexus was still targeting an older clientele looking for a luxurious and extremely comfortable vehicle.Facing the same challenges as Lincoln and Cadillac, Lexus began a transformation with an emphasis on design. The resulting lineup is much more appealing.
For 2019, Toyota's luxury brand is throwing its hat into the luxury subcompact ring with the 2019 UX. Considered a gateway vehicle, it's tasked with attracting newer—and younger—buyers to the Lexus brand. The Car Guide's invitation to the launch specified that we were to send a younger person belonging to the vehicle's target demographic. And lo and behold, yours truly was chosen!
The Lexus UX is built on the new GA-C platform used by Toyota and Lexus. The same architecture is found in theToyota C-HR. It becomes the brand's smallest SUV and will rival the likes of the BMW X1 and X2, Mercedes-Benz GLA, Audi Q3 and Infiniti QX30. Admittedly, it's arriving a little late to the party. More importantly, does it have what it takes to turn heads?
Family Resemblance With a Few Differences
Its style imitates that of its older siblings, with the large trapezoidal front grille an obvious reminder of its family ties. Love it or hate it, no one can accuse it of lacking personality. In back, the UX has its own visual signature with a snazzy transversal strip made up of 120 LEDs linking the taillights. Like the Toyota Prius and RAV4, the lights form a fin that reduces turbulence in the back for greater aerodynamic efficiency.
For even more visual impact, you'll have to opt for the F-SPORT version. Like the Mercedes AMG and BMW M Performance versions, the F-SPORT package reinforces the vehicle's sportiness with a few extra esthetic components, such as a unique grille, colours and exclusive rims. It's hard to pass up, but it's mostly cosmetic and won't drastically improve performance.
However, we're not crazy about the wide grey trim that surrounds the wheels, and we outright loathe the exhaust tip hanging below the rear bumper. It sullies the effect normally associated with a luxury vehicle. The devil is often in the details, and this is surprising from Lexus.
The Most Comfortable Seats in its Class
On board, there are very few negatives. We're used to quality cabins from Lexus, and that of the UX—which stands for Urban Crossover—is no exception. It's elegant and tasteful, especially if you go for the two-tone colour scheme. Our test model included blue inlays and the effect was superb. Same goes for the F-SPORT with all-red seats.
Although straight dashboards are all the rage, the one in the UX is oriented toward the driver, facilitating access to the commands and controls. There's no touchscreen for the infotainment system: instead, everything is still controlled by a touchpad whose virtues Lexus won't stop extolling. However, it still demands more attention and causes frustration. In its defense, a few buttons have been added directly to the handrest to control basic functions and the volume of the sound system. Halleluiah, Apple CarPlay integration has been added! But, sorry, not Android Auto.
Which Version to Choose?
The entry-level version is the UX 200, equipped with a new 2.0-litre four-cylinder engine that generates 168 horsepower and 151 lb.-ft. of torque. That's less power than what's found in its main rivals, which all deliver more than 200 horsepower. And yet, you don't get the sense that it lacks muscle, with the reduced weight of the vehicle playing to its advantage. We noticed more cabin noise when accelerating and at high revs. The engine has to work hard, especially if you're aiming for higher performance. At least, despite its high compression ratio, the engine doesn't require super unleaded gasoline. The only real problem with this engine is that it can't be paired with all-wheel drive, which explains the vehicle's lower weight.
If you want all-wheel drive, you'll have no choice but to opt for the hybrid version known as the UX 250h. It has the same gasoline engine, but with an Atkinson cycle that improves its energy efficiency. An electric motor makes up for the slight reduction in power and torque. In fact, there are a pair of electric motors, the second one taking care of the rear wheels to create an all-wheel drive system that transfers 60% to 80% of the torque when needed.
To be fair, this version's 175 total horsepower gives the vehicle excellent balance and slightly better pick-up, which is a real godsend in urban areas. It's also quieter on the road and its EV mode lets you travel up to a kilometre in fully electric mode.
The nickel-metal-hydride battery pack is more compact and located under the rear seat to be less intrusive. However, the floor is raised in the cargo area because that's where the all-wheel drive's electric control system is located. This limits the size of objects that you can put there, and they didn't bother correcting it. That said, there's a slightly more spacious storage bin under the floor.
Lexus' First CVT Gearbox
The UX also features the brand's very first continuously variable automatic transmission, whose only real advantage is to improve fuel consumption inexpensively. To address the main problem with this type of gearbox, it uses Direct Shift technology that integrates an actual first gear, emulating a classic automatic transmission when you launch the vehicle before it switches to the variable-ratio portion of its operation.
On all versions, the three-spoke steering wheel is comfortable and gives you a better feeling of control, a sense that is enhanced by the well-dosed power assist. They took great care to maximize the model's rigidity and it shows. You can't feel any vibrations inside—it's a good thing too, especially during the pothole season. The vehicle is as solid as a rock.
Basically, the 2019 Lexus UX is worth a look, especially for its meticulous passenger compartment, comfort level and well balanced hybrid version. No word on the pricing yet, but the front-wheel-drive version may be made more appealing by an interesting base price while an overly high price for the AWD hybrid version could send buyers flocking to the competition.
Test drive report
Test model

2019 Lexus UX

Trim level
250h
Price range
$38,000 – $45,000
Price as tested
CA$45,000
Warranty (basic)
4 years/80,000 km
Warranty (powertrain)
6 years/110,000 km
Fuel economy (city/highway/observed)
N/A
Options
N/A
Competitive models
Audi Q3, BMW X1, BMW X2, Buick Encore, Cadillac XT4, Infiniti QX30, Jaguar E-PACE, Mercedes-Benz GLA, Volvo XC40
Strong points

Cabin finish and quality of the materials
Choice of body colours
Dynamic ride
Guaranteed reliability
Good CVT gearbox

Weak points

No all-wheel drive in the basic version
Limited cargo space
Mark Levinson sound system not offered here

Editor's rating
Fuel economy
The lack of all-wheel drive gives the base version an edge while a hybrid system maximizes fuel economy.
Comfort
Very comfortable seats, even in the back.
Performance
Not the most dynamic of the lot. When will we see an F version to rival BMW M and Mercedes-AMG?
Infotainment
Touchpad as inefficient as ever, but Apple CarPlay has been added.
Driving
Agile, compact and pleasant on the road.
Overall
The UX comes into the segment without really turning the market upside down, but it offers some attractive features.