Apple CarPlay and Android Auto: Coming to a Mazda Vehicle Near You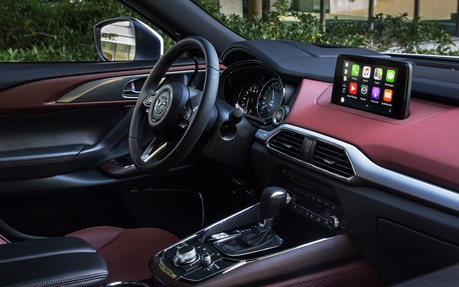 Mazda has been one of the last automotive manufacturers to integrate Apple CarPlay and Android Auto in their products, and it's not because customers haven't been asking for this feature. Some people went as far to say that wouldn't purchase another Mazda if Apple and Android integration wasn't available.
That's about to change as the company will be adding the feature in most of its 2019 models, while many current owners of Mazda vehicles 2014 and up will be able to add it as well.
First and foremost, during a recent media presentation, the automaker wisely reminded us of how they designed and engineered their Mazda Connect infotainment system, which was introduced in the 2014 Mazda3 and made its way into every other redesigned model since then. It uses a console-mounted, multifunction knob surrounded by a volume dial and five buttons to quickly access the system's main features.
Why five buttons? Because they created their interface based on a theory published in 1956 by George A. Miller, a Princeton cognitive psychologist. Studying the capacity of human short-term memory, his paper called "The Magical Number Seven, Plus or Minus Two" stated that most adults can memorise between 5 and 9 items. Aside from the five-button layout, the on-screen menus and lists show no more than seven items, which Mazda believes minimises visual and cognitive distraction while driving.
The company also says that resting our arm on the vehicle's console and manipulating a knob using only fingers, or fine motor skills, is also less distracting than reaching out and poking a touchscreen, which can cause the driver's body to move and consequently risk steering the vehicle out of its lane. The Mazda Connect display that sits on top of the dash is only touch-sensitive when the vehicle is stopped.
In addition, everything displayed in the driver instrument panel and on the head-up display is exclusively driving information, such as vehicle speed, lane assist markers and navigation directions. Information irrelevant to the drive itself, such as the radio station or a song name, or a phone call in progress, is relegated to the centre stack display. This is also said to keep the driver concentrated on what's most important. Truthfully, all of this makes perfect sense.
For the integration of Apple CarPlay and Android Auto, Mazda's team made switching between the in-house operating system and iOS/Android as easy as possible. A short press of the Home button above the multifunction knob brings us to the CarPlay/Auto home screen, while a long press brings us to the Mazda Connect interface. When pressed, the entertainment and nav buttons bring us to the latest audio or navigation function we were using, whether it's through CarPlay/Auto or Mazda Connect.
A press of the voice command button on the steering wheel reverts to Siri or Google Assistant as soon as a smartphone is plugged in. The touchscreen works with Apple CarPlay when the vehicle isn't in motion, but the multifunction knob is the only way to use Android Auto—a software limitation of the latter, says Mazda.
Apple CarPlay and Android Auto integration is standard in all trim levels of the 2019 Mazda CX-9, which goes on sale as this is being written. It will be gradually added to all 2019 models that will soon hit the market, except the Mazda MX-5.
Starting now, owners of a 2019 Mazda CX-3 as well as a 2018 Mazda6 will be able to upgrade their vehicle with Apple CarPlay and Android Auto integration for a promotional fee of $250, valid until February 28 2019.
As for owners of vehicles equipped with the Mazda Connect system, model years 2014 to 2019, there's good news and bad news. A system upgrade to accommodate Apple CarPlay and Android Auto integration will be possible in Mazda dealerships, starting in late 2018, but because it requires some hardware modifications—such as the replacement of the USB port—it will come at a cost of $445. Mazda Canada estimates about 200,000 vehicles on our country's roads are compatible for this upgrade.
Compatible models:
2014-2018 Mazda3
2016-2018 Mazda6
2016-2019 Mazda MX-5
2016-2019 Mazda CX-3
2016-2018 Mazda CX-5
2016-2018 Mazda CX-9