2019 Mercedes-AMG A 35: But Will We Get It?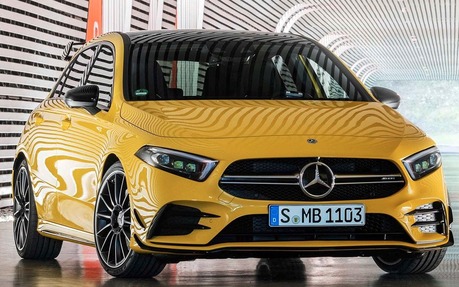 With the all-new Mercedes-Benz A-Class ready to hit Canadian showrooms in early 2019, it would only be fitting if the carmaker also offered a high-performance AMG version. At least, that's what we hope, because we're big fans of the AMG CLA 45.
And that's exactly what we should expect from Mercedes-Benz with the upcoming AMG A 35. Except for now, we still don't know if it'll come this side of the pond.
Nothing Confirmed for our Market
According to Australian automotive website Redline, the images you see here represent the all-new AMG version for the A-Class, which should be unveiled at the Paris Auto Show in a few weeks. However, Mercedes-Benz still hasn't confirmed anything about this car.
What we do know, is that the A-Class hatchback variant will be sold in Canada, contrary to our American friends who will solely get the sedan. According to the rumours published on Redline's website, the A 35 would be powered by Mercedes-Benz' now familiar 2.0-litre, turbocharged four cylinder, good for a claimed 300 horsepower, which would allow it to sprint from 0 to 100 km/h in under five seconds. An even more powerful A 45 variant, pumping out 400 horsepower, would also make its way to the lineup.
Of course, the arrival of A-Class will, in theory, spawn a new variant of the GLA, Mercedes-Benz' entry-level SUV. An AMG version of that car would undoubtedly also be released, since the GLA is seeing more than decent sales figures here in North America. As for the very yellow Mercedes-AMG A 35 hot hatch you see here, you'll have to wait until the Paris Auto Show for all the details.
étails.