An Audi Supercar Stars in Spies in Disguise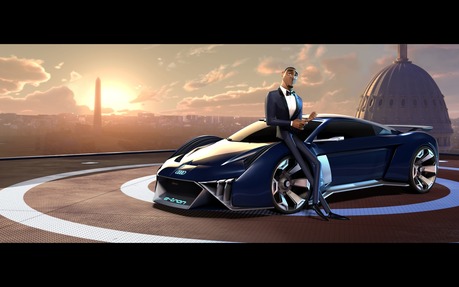 The German automaker has just unveiled its latest concept car, but we'll likely never see it on the stage of an auto show. The Audi RSQ e-tron will rather make its debut in Spies in Disguise, an animated movie scheduled to be released in September 2019.
Twentieth Century Fox's Spies in Disguise will star superspy Lance Sterling, voiced by Will Smith, who'll be riding in his RSQ e-tron that features a fully electric powertrain, an autonomous drive system and a holographic speedometer.
We frequently saw Audi vehicles appear on the big screen, but it's the first time the brand developed a concept car for an animated movie, creating with the collaboration of Blue Sky Studios. "An international espionage story with future technologies that can save the world is the perfect match for the Audi brand," says Giovanni Perosino, Vice President of Marketing Communication at Audi AG. "Similar to our cars, fun, innovation and performance are key elements of the storyline."
This animated comedy flick stars Lance Sterling, but also Walter Beckett, a scientist that invents all sorts of clever gadgets to help the superspy complete his missions. However, when trouble arises, the two characters, which have nothing in common, must help each other out in order to save the world.
Could the RSQ e-tron be a glimpse of the next-generation Audi R8? Why not?