2019 Volvo XC40: Icing on the Cake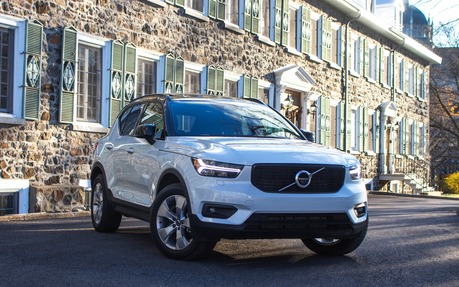 The subcompact luxury SUV segment reminds me of carrot cake. Nobody is reinventing anything, but rather recycling an old idea presented in a better-looking shape. If you're going to sell carrot cake, you'd better have a solid recipe if you plan on outselling your competition.
Volvo, with its XC40, has understood that in order to stand out in such a crowded segment, adding more carrots and fluffier dough just won't cut it. You need to make sure the icing on that cake is thicker and tastier than all the other ones on the shelf. And the XC40's icing is thick, sweet and sumptuous.
On a Roll
In case you haven't been following, Volvo's been on a roll lately, reinventing its brand, launching fresh new models with stunning designs, sumptuously comfortable interiors and efficient powertrains. The XC40 is the carmaker's first entry in the highly popular, and lucrative, subcompact luxury SUV segment, and it's rather good, or should we say, excellent, as it took home to title of The Car Guide's 2019 Best Buy in its category.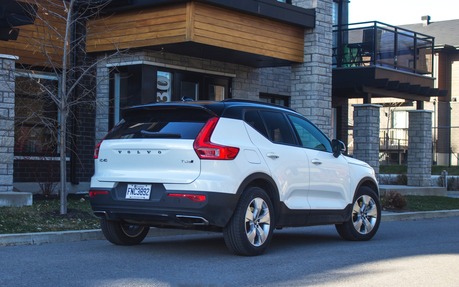 It's a category where buyers seek styling, versatility, all-weather capability and luxury, all at an attainable price. And the players are strong, with vehicles such as the Audi Q3, the BMW X1 and X2, the Cadillac XT4, the Infiniti QX30, the Jaguar E-PACE, the Lexus UX, the Mercedes-Benz GLA and the MINI Countryman.
Volvo's little one sits on a brand-new architecture called CMA which was put together exclusively for the XC40, but will also underpin upcoming other subcompact cars and wagons, such as the – ahem – Volvo V40.
Only one engine powers it on our market; a 2.0-litre turbocharged four cylinder Volvo calls the T5, which also propels the S60/V60 and XC60 SUV. It's good for 248 horsepower and 258 lb.-ft. of torque. All-wheel drive comes standard, which is a welcome feature in this segment. An eight-speed automatic gearbox completes the package.
Our tester was an R-Design, which sits in the middle of three available trim levels. It adds to an already good-looking vehicle 19-inch R-Design wheels, a blacked out grille, mirrors and roof, as well as some unique interior design cues. It sells for $44,550 before freight and destination.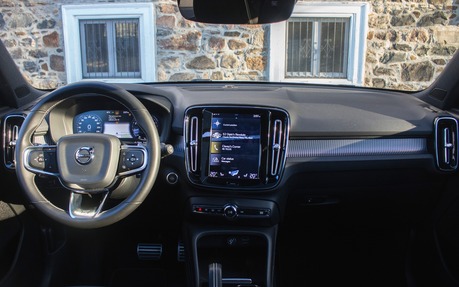 A Familiar Theme
The first thing you notice when strapping yourself inside an XC40 is how it carries over the rest of the Volvo lineup's design theme without skimping too much on material quality. Being the brand's most affordable vehicle means cost cutting had to be applied, but you'd hardly notice it, as the XC40 boasts an attractive, well-put-together cabin, with stylish styling cues and excellent build quality.
It's also roomy in there, both front and rear, with ample head and legroom, as well as a surprisingly cavernous trunk for the segment.
But once those rear seats are folded flat, the little Volvo gets somewhat outshadowed by its rivals. While its 1337 litres of total cargo space is more than what's found in a Mercedes-Benz GLA (1235 litres), even the tiny Audi Q3 (1365 litres) is more practical, while the mighty BMW X1 (1662 litres) totally pulverizes it.
But the XC40 redeems itself with other qualities. On the road, its spirited handling and impeccably well-mannered driving dynamics make it rather fun to drive. And that turbo engine ain't too bad neither, providing plenty of low-end thrust and punchy turbo power, all while delivering more than satisfactory fuel economy.
Unfortunately, that engine does not sound good. Even if Dynamic mode significantly changes the vehicle's steering, transmission and throttle reaction times, wringing out the buzzy four-pot will quickly get on your nerves.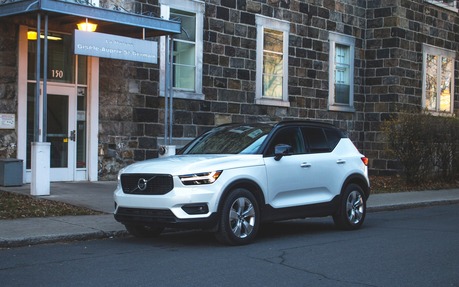 For Winter, But…
So yes, as far as doing standard tiny SUV things, the XC40 succeeds, and the darn thing also happens to be well packaged, giving consumers a lot for their money.
But while Volvo has long bragged about building cars adapted for winter due to its Scandinavian roots, our tester proved a little clumsy during the humid mid-November week we had it. We appreciate Volvo's Sensus infotainment system—entirely touch-operated—for its clean, elegant design, large icons that will react to a pair of gloves and redundant physical controls. But its operation speed is painstakingly slow, especially on cold starts. When you're freezing your butt off in the morning, the first thing you want to do is turn on the heated seats and steering wheel. The only way to operate them is through that screen. Waiting for the screen to act up is, shall we say, very irritating.
We also experienced problems with the heated steering wheel itself, which refused to operate several times while we had it.
Then there's the finicky gear leaver which requires a double-tap motion to go from Reverse to Drive. It's essentially the same knob as in the larger S90/V90 cars and XC90 SUV, but without the glass shifter. It looks good, but we would have preferred a standard PRND gear lever like the one found in the S60.
And while we love how the engine delivers its power, throttle delay remains a Volvo downside across its lineup. There's a significant lag between the time you stomp the accelerator pedal and the car decides to get up and go, which can prove annoying during stop and go traffic.
But hey, this is a segment where consumers lease versus buy, and favour styling and brand recognition over anything else. Reliability rarely bothers these consumers, and it's not like its rivals sit at the top of the dependability scores anyway. In that respect, the 2019 Volvo XC40 is a stylish fresh offering that looks as chic as the brand-new condo its owner undoubtedly resides in.
In other words, if cargo space and all-whether capability are the boring carrots that hold the cake together, the XC40's good looks, dashing interior and sporty driving dynamics are the butter-sweet icing that tops it off, making it the best cake we've tested in years.
Test drive report
Test model

2019 Volvo XC40

Trim level
T5 R-Design
Price range
$42,100 – $43,700
Price as tested
43 700 $
Warranty (basic)
4 years/80,000 km
Warranty (powertrain)
4 years/80,000 km
Fuel economy (city/highway/observed)
10,3 / 7,5 / 8,6 L/100km
Options
N/A
Competitive models
Audi Q3, BMW X1, BMW X2, Cadillac XT4, Infiniti QX30, Jaguar E-PACE, Lexus UX, Mercedes-Benz GLA
Strong points

Looks good, inside and out
Punchy turbo engine
Roomy cabin and trunk

Weak points

Laggy infotainment interface (on cold starts)
Finicky gear lever
Delayed throttle response

Editor's rating
Fuel economy
We recorded an average of 8.6 L/100 km while we had it. For an all-wheel-drive vehicle in winter, that's excellent.
Comfort
The XC40 is surprisingly roomy for its size and those front seats are supportive and comfortable.
Performance
Quick off the line with ample power and torque. This is a quick little SUV.
Infotainment
Sensus has an attractive interface, redundant physical controls and is compatible with all the latest tech. But the system is slow to react, especially on cold starts.
Driving
Nimble, playful, and capable, the XC40 drives like a hot hatchback, encouraging spirited driving. But that four-cylinder doesn't sound all that sporty.
Overall
The XC40 is a stylish, fun-to-drive and practical little utility vehicle. While some of its quirks can get irritating, it remains our favourite subcompact luxury SUV.