2020 Jeep Gladiator: the Long-Awaited Pickup Finally Unveiled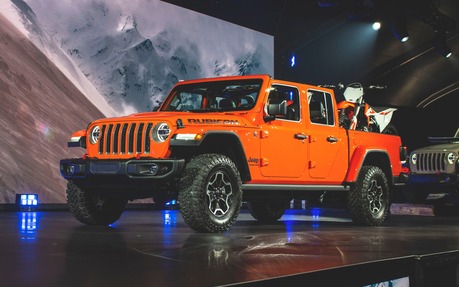 Jeep finally revealed the pickup version of its popular Wrangler at the Los Angeles Auto Show.
While some rumours stated it would be called the Scrambler, Jeep rather opted to revive the Gladiator nameplate. Obviously, this new midsize pickup truck is equipped with the American brand's legendary four-wheel drive system, and unsurprisingly, it boasts Jeep's emblematic seven-slot grille as well.
A Choice of Two Engines
The Gladiator will be motivated by either a gasoline 3.6-litre Pentastar V6 (285 horsepower and 260 pound-feet of torque) or a 3.0-litre EcoDiesel V6 (260 hp and 442 lb.-ft.). An eight-speed automatic transmission can be matched to either one of these engines. On the other hand, the six-speed manual gearbox will only be available with the gasoline V6.
Towing and payload capacities have been set at 7650 and 1600 pounds (3470 and 725 kg), respectively.
Buyers will be able to choose one of several trim levels that include Sport, Sport S, Overland and Rubicon. A front-mounted camera will be optional on the Rubicon, which will help spotting obstacles during off-road driving.
The truck also includes the fourth-generation Uconnect infotainment system, matched with either a 5.7-inch or 8.4-inch touchscreen. In addition, it integrates Apple CarPlay and Android Auto.
The Only Convertible Pickup
As is the case with the Jeep Wrangler on which the Gladiator is based, it will be possible to remove the top and doors in order to drive with the wind in our hair. It also becomes the only pickup truck to offer this highly desirable feature.
The new Gladiator will be built at the company's Toledo, Ohio plant, previously used to assemble the Wrangler JK up until last spring. This 2020 model should hit dealerships during the second quarter of 2019.
Not the First Jeep Pickup
As early as 1947, Jeep entered the pickup truck segment with a vehicle conceived by Willys-Overland. Ten years later, Jeep introduced the FC-150/170 which was essentially a work truck. Its cab-forward design gave it a profile look that's highly memorable. In 1963, the very first Gladiator appeared, based on the Wagoneer.
The first Scrambler was launched in 1981, which was simply a CJ-7 transformed into a pickup truck. From 1985 to 1992, the Comanche was offered, being more or less a pickup version of the popular Jeep Cherokee.
We had to wait 25 years before seeing an all-new Jeep pickup truck.