2019 Porsche Macan: Best-seller Gets Updated with New Tech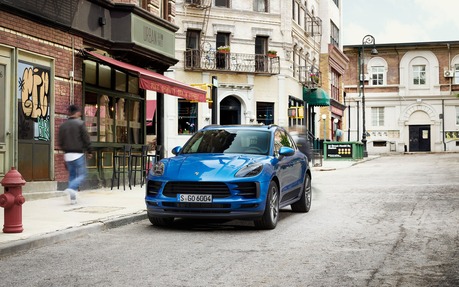 PALMA DE MALLORCA, Spain – Twenty years ago, seeing the words SUV and Porsche in the same sentence was unthinkable. The German company was—and still is—renowned for its rear-drive, rear-engine sports cars. Then the Cayenne came along in 2003 and introduced an entirely new customer to the brand. With the increasing popularity of SUVs over the years, the next natural step was to offer a smaller, more affordable and more accessible SUV.
Enter the Macan, introduced in 2014. It proved instantly popular. In 2017, it outsold the next most popular Porsche in Canada, the Cayenne, by more than 80 percent, at 3767 units. In fact, the Macan alone represents almost half of all new Porsche models sold in Canada. While the Macan has some design elements—like its elongated headlights and its long, bulbous hood—that give it away as a Porsche, it is nonetheless an SUV. Slip into the driver's seat and take it for a spin, however, and it is unmistakably all Porsche.
Refreshing a Good Thing
When something is good, you don't need to make drastic changes, so four years into its life cycle it receives a mild revision for 2019. The 2.0-litre turbocharged four cylinder that develops 248 hp and 273 lb.-ft. of torque returns in the base Macan, but there's a new V6 powering the Macan S. The 3.0-litre engine was introduced in the Panamera and features a "hot V" setup that has a single, twin-scroll turbocharger set within the V of the engine.
This setup shortens exhaust manifold length, which reduces turbo lag to almost nil. The V6 produces 348 hp (an increase of 13 hp compared to the outgoing V6) and 354 lb.-ft. of torque. Zero to 100 km/h times are 6.7 seconds for the 2.0-litre Macan, and 5.1 seconds for the Macan S. Both engines mate to seven-speed dual-clutch gearboxes, and both powertrains are all-wheel drive.
Externally, the Macan now features full LED exterior lighting as standard, including the headlights, while brighter LED cornering headlights with automatic high-beam function are available as an option. A new grille combines with the absence of auxiliary fog lights (fog lights are now part of the LED headlights) to make the front end look wider. In the rear, an LED light panel stretches across the hatch, bridging the taillights together.
Subtle changes continue inside, where a larger 10.9-inch touchscreen replaces the outgoing model's 7.2-inch screen, and heating vents are now splayed horizontally to make room for the new screen. User interface is controlled through the touchscreen via Porsche Communication Management (PCM), and also via Voice Pilot voice control. You can also access certain functions via your smartphone using the Porsche Connect and Porsche Car Connect apps.
Online navigation is standard, and an embedded navigation system is optional. Apple CarPlay is still the only operating system integration option in the Macan. Also available is a GT steering wheel that is lifted from the 911, which comes with a Sport Response mode switch when the optional Sport Chrono package is selected.
Changes in the undercarriage include a move from steel to aluminum for the front suspension arms, which reduce unsprung weight and improve suspension response, while the anti-roll bars have been revised and brake feel has been improved through the use of a lighter, composite brake pedal with revised geometry. Like before, air suspension and torque vectoring are available as options.
An SUV with Sporty Intentions
Our drive begins in the 340-hp Macan S equipped with the Sport Chrono package, and it immediately asserts itself as a sporty SUV. In Sport Plus mode it steers sharply, while exhibiting very little body roll through turns. Acceleration is brisk, the engine pulling with authority throughout its rev range. Porsche's PDK gearbox is a marvel, shifting aggressively in Sport Plus mode, and with subdued smoothness in Normal mode.
The active suspension is quite firm in Sport Plus, returning excellent road feel, while it softens to a comfortable level in Normal mode, though remaining firm enough to allow a quick pace without getting sloppy. At times, it's only the Macan's ride height that gives it away as an SUV; otherwise you'd think you were driving a sporty coupe.
Switching to the standard Macan with the 2.0-litre engine reveals why it's so popular. While it lacks the air suspension of the Macan S (it is available as an option), handling is precise and the ride is quiet and composed. Power is still satisfying, though the four cylinder lacks the low-end grunt of the V6 and prefers to be revved if you're in a hurry. About the only drawback of the 2.0-litre engine is that its flat sound detracts somewhat from the V6's sporty character, though this is by no means a deterrent for potential buyers. Claimed fuel consumption for the 2.0-litre engine is 9.5 L/100 km city, 7.3 highway, 8.1 combined.
Pricing for the 2019 Porsche Macan starts at $55,500 before freight and delivery charges, maintaining it as the most affordable new Porsche you can buy. In this case, affordable certainly does not mean cheap, and the Macan has a lot to offer, including the renowned Porsche pedigree that is probably high on the checklist for potential buyers. Add those factors together, and the Macan should have no problem remaining Porsche's biggest-selling vehicle.
Test drive report
Test model

2019 Porsche Macan

Trim level
Base
Price range
$55,500 – $89,000
Price as tested
55 500 $
Warranty (basic)
4 years/80,000 km
Warranty (powertrain)
4 years/80,000 km
Fuel economy (city/highway/observed)
11,6 / 9,3 / N/A L/100km
Options
N/A
Competitive models
Acura RDX, Audi Q5, BMW X3, BMW X4, Land Rover Discovery Sport, Mercedes-Benz GLC, Volvo XC60
Strong points

Powerful, fuel-efficient engines
Excellent gearbox
Nimble, sporty handling
Strong brakes
Useable luggage and towing capacity

Weak points

Options drive up price quickly
Marginal rear passenger space
Busy console
Firm suspension (Macan S)

Editor's rating
Fuel economy
The trade off for horsepower on the V6 is modest fuel economy; the 2.0-litre four is quite good
Comfort
Supportive seats and a quiet ride make the Porsche Macan more comfortable than its sporty nature would suggest
Performance
Put simply, the Porsche Macan feels and handles like a sports car.
Infotainment
Porsche Communication Management (PCM) is still a little finicky to navigate, and there's still no Android Auto
Driving
Tight handling and a powerful engine makes this family hauler a real joy to drive.
Overall
If you have room in the garage for only one vehicle and you also would like to own a Porsche, the Macan checks all the right boxes.